Roughing It At RV Shows & Rallies – You Can Do It!
In my last article, RV Shows & FMCA Rallies With AIM: What You Need To Know, I mentioned roughing it in the camping areas at these events:
"The Tampa RV Show and FMCA Rallies are held at large, regional fairgrounds and outdoor event centers. The camping area is a huge, grassy field with makeshift power systems providing individual electrical hookups. Caravans usually park in the 30amp service area.
There are no individual water or sewer connections, but they do have fresh water and pump-out services you can arrange for a fee…"
As a new-ish RV owner, I was not expecting this. Let's face it, most of us don't buy these big, beautiful motorhomes – basically fully-equipped luxury condos on wheels – to rough it. Am I right?
Before we started our full-time living, working and traveling adventure in our 2016 Entegra Aspire, I had never thought about amps or generators, mysterious black or gray tanks, or water pressure regulators. I just flipped the wall switch, flushed the toilet, or turned on the faucet, hot or cold, without another thought.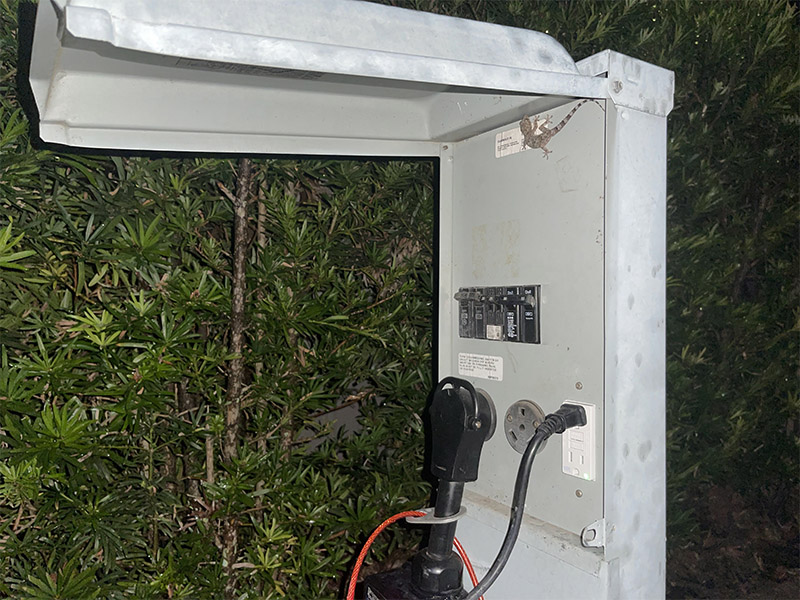 Living full-time in the RV, I gradually learned – actually, sometimes quite abruptly – the difference between 20-, 30-, and 50-amp hookups. We had 20-amp service when Charlie-the-RV was in covered storage before we went full-time (long before we knew about NIRVC storage). 20-amps provided power to the fridge, mini-heaters to keep her from freezing that first winter, and a camera/alarm/monitoring system.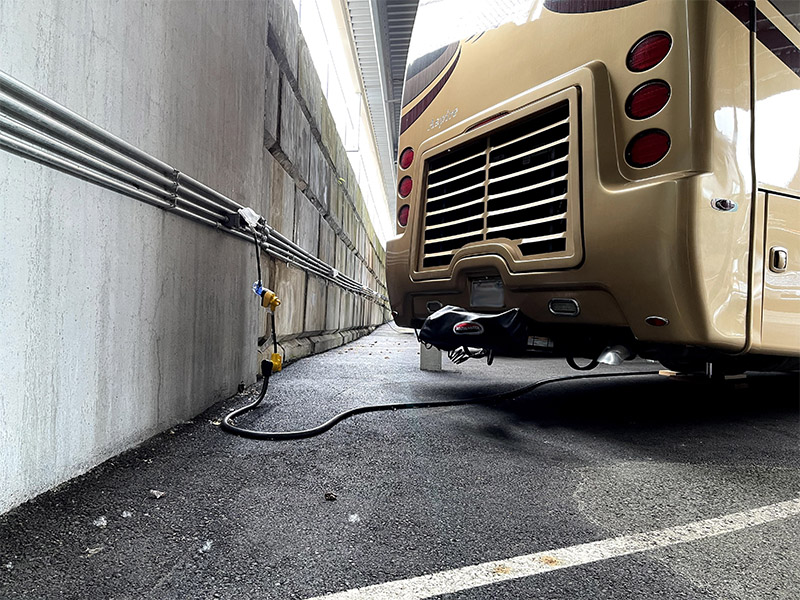 20-amp power in covered RV storage
50-amp service is, of course, the ideal for our multi-zone HVAC, residentially-applianced, teched-out rolling homes. 50-amp powers everything, and you don't have to think too much about it.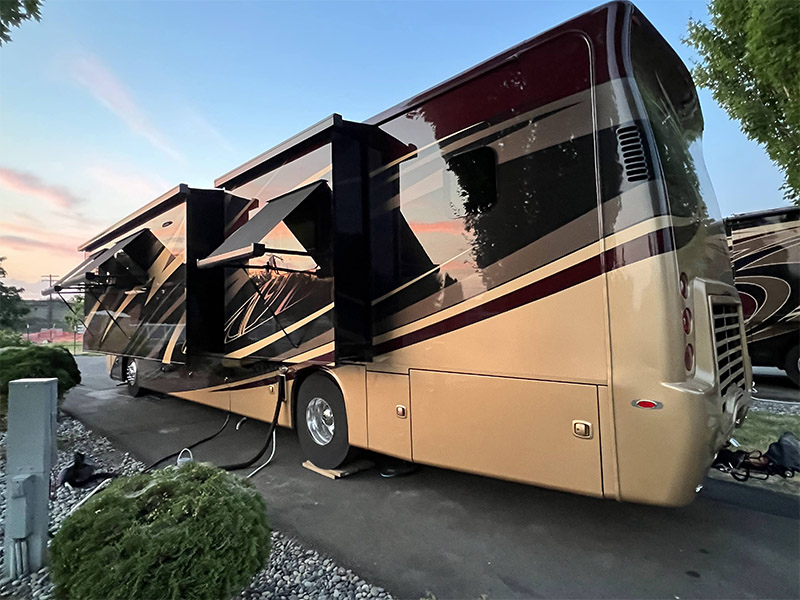 104 degrees at sunset – 50-amp FHU in Walla Walla, WA
30-amp service was a shock – literally – when we first experienced the difference camping at RPI / Thousand Trails in Washington State and across the country. Sometimes 30-amp is all that's available (although you still have water & sewer hookups, so 30-amp service isn't really roughing it). 
I quickly learned:
You can generally only run one HVAC zone at a time on 30-amp power. (One HVAC unit consumes 13 – 18 amps.)

Even that might not work, if any other power drain starts up, for example:
– Stovetop = 11 amps
– Microwave = 15 amps
– Convection Oven on Bake = 18 amps
All the electric things have to add up to less than 30 amps in total, or bad things can happen. (In this specific example, you might end up crawling on your back in the basement to find the breaker for the Inverter, which is hidden underneath the unit in our Entegra, nowhere near any other fuses in the rig, but I digress.)
You can see how that might be a problem if you're trying to run all three kitchen appliances at once, or even two of three, with anything else running (say, if you're trying to make an elaborate brunch on a rainy Sunday morning…). 
Note: an automatic coffee maker is also a surprising amp-vampire (5 – 8 amps).
Just sitting quietly in the RV, with only accent lights and living room sconces, both of us working on our computers, with internet and all the various chargers and routers plugged in, consumes about 3 amps.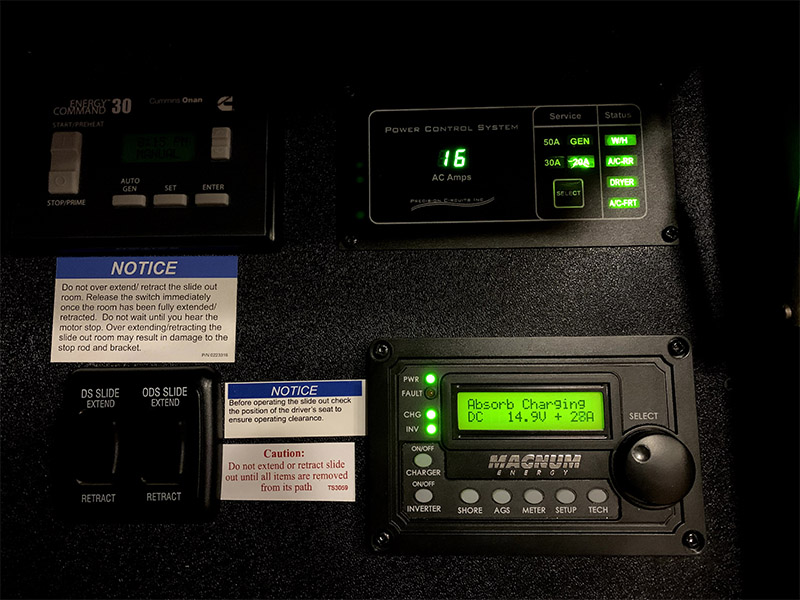 16 amps on 20-amp service – Monitor amp usage on Power Control System display. Ours is located in the front panel over the door in our 2016 Entegra Aspire
Six months into our full-time RVing adventure, we had 30-amp service figured out. We had even boondocked successfully, with NO hook-ups, surviving on battery power and our generator, for a night or two. 
But then, on our way to our first FMCA Rally in Tucson, Arizona, it suddenly occurred to me:
30-amp service + 5 nights = okay, no problem!

NO

fresh water or sewer hookups + 5 nights = ???
I panicked.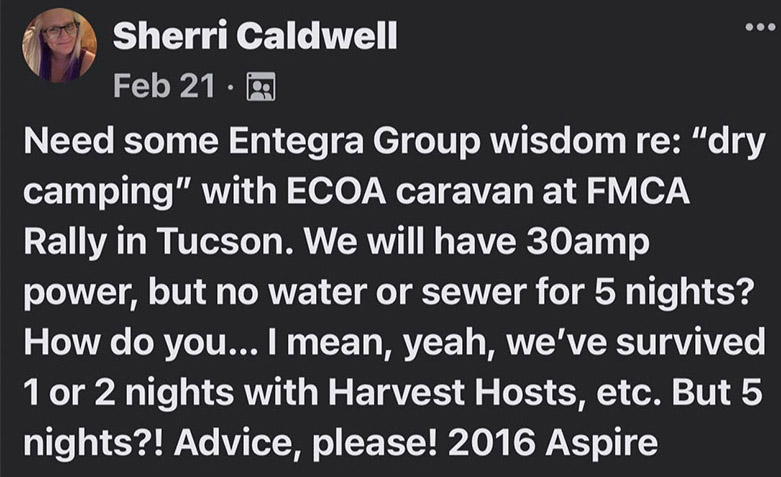 FB post – Entegra Owners Group
Fortunately, fellow Entegra owners, friends and mentors came through for us, once again. They offered great tips and suggestions, some I would consider fairly extreme. But we tested, experimented, and somehow figured it out at that first rally. And then again, six months later, at the FMCA Rally in Lincoln, Nebraska.
We learned how to rough it and survive five nights on 30-amp service without sewer or fresh water hookups. If we can do it, you can too!
Twelve Quick Tips & Tricks for
Roughing It
at RV Rallies
Arrange FHU (Full Hook Up) camping in a campground nearby the night before: 

Empty & Flush black and gray tanks.
     – Fill fresh water tank to capacity.
     – Go in with clean laundry and dishes.


     – Plan on NO

dishwasher.
     – NO washer & dryer.
Know your holding capacities for fresh water, black and gray tanks.

Monitor tank levels daily: It's all about the numbers!

Bring extra drinking water. We brought 1 case of bottled water and 2 "suitcases" of fresh water (with the spout) for coffee, drinking, and refilling water bottles. (We drink a lot of water!)

Plan meals to stock up on groceries and to minimize use of appliances, dishes, and clean up.

Reduce, re-use, and recycle! Think paper plates & plastic utensils to minimize dish washing. (Fortunately, garbage cans and recycling containers are usually nearby and plentiful in the camping areas.)

Use the facilities and services at the rally to reduce water usage and tank fill in your RV (i.e. restrooms, showers, dining options).

Minimize use of your fresh water in the RV (and filling up your gray tank) by

capturing clean water in a pitcher, bucket, or wash tub in the sink and shower when you're warming up water for hand washing or showering. Use that water for dish washing or other needs. Use a stick sponge with soap in the handle for easy and quick dish washing.

Embrace your natural state and

go dirty

, if you can. (Take a good, long shower at the FHU campground the night before.) But that's just one option. We prefer good old every-other-day

Navy Showers

: Capture the water while it's warming up (or go cold shower – it will be quicker!). Turn off water while you're soaping up. (Another suggestion was using baby wipes for quick body wash instead of showers… but my memories of the true purpose and use of baby wipes are too vivid for that option – even after 20+ years!

Toilet Talk: Avoid using your fancy macerator or electric flush toilet while camping at the rally. Your step-flush gravity toilet (if you have a half bath) uses much less water for a flush – and you can control how much you use. (Or you can even use captured water to flush, instead of fresh water.)

Arrange pump-out & fresh water fill. These services are available at the rally, for a fee, and can easily be arranged with the event organization.
(We didn't figure out how to sign up for services before our first rally, so now we take it as a personal challenge to manage our usage with all the tips & tricks we've learned. 😉)
Finally, plan your departure to the closest campground with full hookups and 50-amp service:
     – Dump your gray and black tanks.
     – Turn up the HVAC in as many zones as you desire.
     – Catch up on dish washing, laundry, etc.


     – Enjoy a REAL shower.
If you've come this far… Congratulate yourself and your partner on roughing it at the RV Rally – YOU DID IT! Safe travels & see you soon!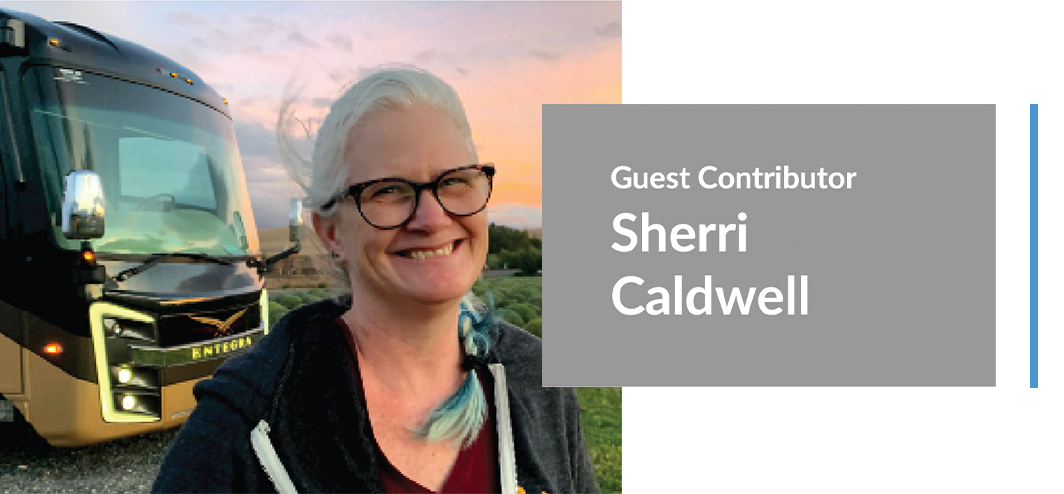 Sherri Caldwell is the founder of BooksAndTravelUSA.com – Full-time RV Travel Blog & Book Club/U.S. Literacy Project. With her husband, Russ, she is currently living, working, and traveling full-time in their 2016 Entegra Aspire: Charlie-The-Unicorn RV.