So, how much do you weigh? Kinda personal, right? But it's a thing in the RV world… Of course, I'm talking about your RV! (Mostly. 😉)
What's the Big Deal about RV Weight?
In a Class A motorhome, you're not just driving a ton of weight down the road. It's actually more like a dozen tons of weight – or much more, depending on the size of your RV (and everything in it, including you).
In a word, the big deal is SAFETY.
Overloading or improper distribution of RV weight can:
Affect control of your motorhome while driving or braking.

Add stress and wear and tear to chassis components, leading to damage and potential failure.

Cause catastrophic tire damage, resulting in a serious accident.
While we're talking about tire safety and blowouts, I have to mention RettroBand® Wheel Enhancement, which is exclusively distributed by National Indoor RV Centers. NIRVC offers a limited, highly selective line of RV aftermarket products for added safety, protection and convenience, including RettroBand, which was developed to protect your RV in the event of a tire blowout.
For more information and a video of RettroBand in action with NIRVC CEO and President Brett Davis, visit rettroband.com.
RV Weight & Tire Pressure
Knowing the weight of your RV helps you determine appropriate tire pressures for safe driving, based on the actual weight and the Load and Inflation Tables for your specific tire manufacturer and type of tire.
Load Inflation Tables, often referred to as LITs, are a tool used by manufacturers, tire retailers and automotive professionals to determine the appropriate inflation pressure for tires based on the load that they will be carrying. These tables provide a reference for adjusting tire pressure to ensure optimal safety, performance and longevity of the tires.
How Much Should an RV Weigh?
The first place to start is knowing the basic limits of your RV. For instance, how much weight was it designed and built to carry? This information can be found on the "stickers" – or Federal Compliance labels – in each and every RVIA-certified motorhome.
These are generally located near the driver's door or on the wall near the driver's seat. Locate these stickers in your RV and make note of the critical Weight Ratings for your vehicle (See below).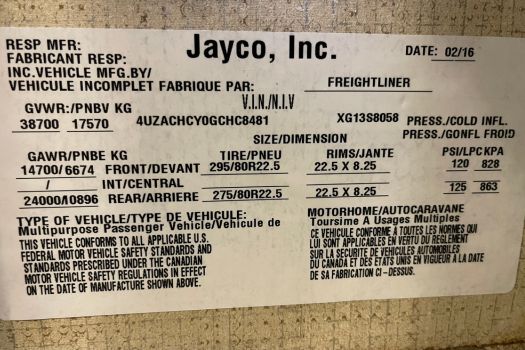 The Federal Compliance label located on the wall behind the driver's seat in our 2016 Entegra Aspire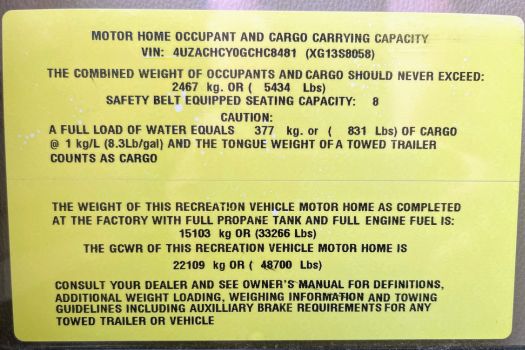 The Federal Compliance label located behind our driver's seat on the screen door
What You're Looking For & What It Means
GVWR (Gross Vehicle Weight Rating)

– the maximum weight limit of the vehicle and everything in it, including passengers, pets, gear, provisions, furniture, accessories, fluids (fuel, propane, water, etc.) and all of your household and personal goods.

GAWR (Gross Axle Weight Rating)

– the maximum weight limit on each axle. It is possible to be under the GVWR and still exceed an axle rating, depending on how your RV is loaded (i.e., the weight distribution on each axle).

GCWR (Gross Combination Weight Rating)

– the maximum combined weight limit of your motorhome and the attached tow vehicle, including all passengers, cargo and liquids in each vehicle.
What are the Maximum Allowable RV Weight Limits?
By examining the applicable Weight Ratings on the two stickers, we determined the maximum allowable weight limits for our motorhome, which are summarized below. This is helpful information to have on hand (perhaps in a note in your smartphone) when you're loading and weighing your RV.
How Do You Weigh an RV?
Once you know your weight limits, it's time to take your fully loaded RV and tow vehicle to the scales! This can be easier said than done, but we'll start where most of us do:
At the Truck Stop
The easiest and fastest preliminary weigh-in method is on the CAT Scales at your nearest truck stop. It can be fun driving up on the CAT Scales, like the big boys and girls in the semi-trucks… if you know what you're doing!
If you're new to this process, here's a quick primer:
1. Download the CAT Scale Weigh My Truck mobile app. Once you set up your account, you can do it all on your phone: 
Find a CAT Scale location near you

Pay as you weigh (Current price: $13.00)

Weigh your motorhome and towable

Get your weight report immediately

View the record of your weigh-ins
The Weigh My Truck app displays your weights immediately on your phone. You can also view a PDF for comprehensive information about the CAT Scales Certification & Guarantee for professional truck drivers.
2. Watch this helpful YouTube video from Mortons on the Move: Weighing the RV the easy way with the Weigh My Truck App
It's as easy as driving your RV across the scales! The only difference in a Class A Motorhome is that you must stop with your front and rear axles of the RV on the first and second plates, and with your tow vehicle positioned on the third plate.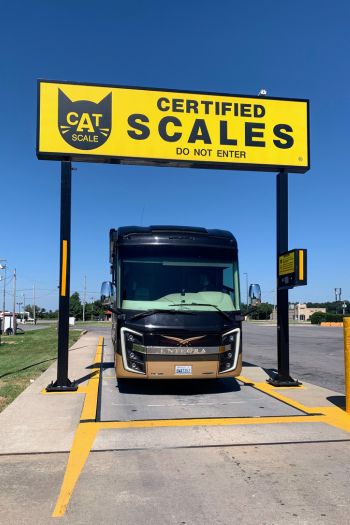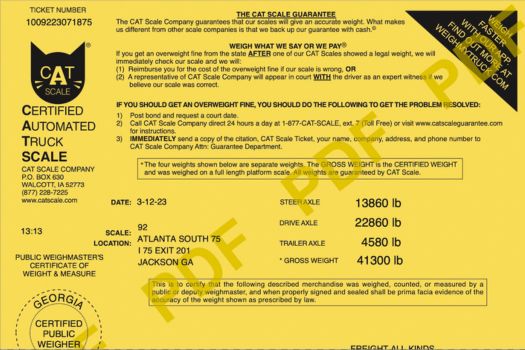 RV Weigh Results: Did We Pass?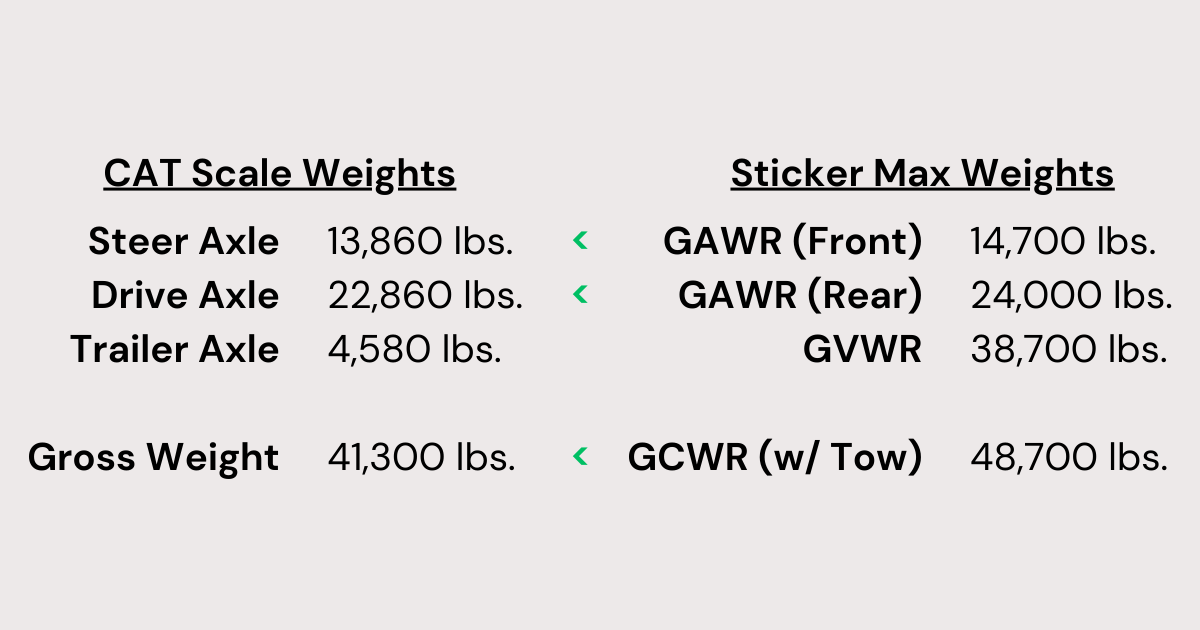 YAY! We were under the weight limits based on axle weights and GCWR, including our tow vehicle. But hold on a minute…
RV Weight Limitations of the CAT Scales
As helpful as the CAT Scale weights are for overall weight and load on each axle, including the tow vehicle, it doesn't tell us anything about the weight distribution, side to side, on each wheel position, on the tires. This information is extremely important when it comes to safely and accurately managing tire pressures on all tires.
Note: Unless you know the load/weight carried by each wheel position, you have no way to know the proper inflation of your tires. Improper inflation leads to improper wear, reduced life of the tire, and greater potential for rapid tire failure. Learn more.
Beyond the CAT Scales
If you just can't find a place to get your RV weighed wheel-position-by-wheel-position, weighing on a platform scale gives you the basic starting information. Then, you can get wheel-by-wheel weighing done when you have the opportunity.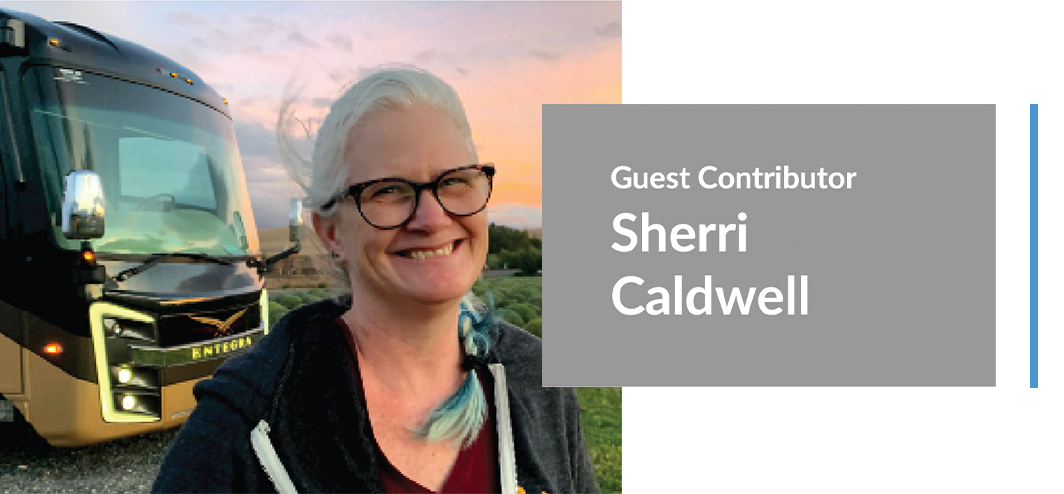 Sherri Caldwell is the founder of BooksAndTravelUSA.com, a full-time RV travel blog and book club/U.S. literacy project. Sherri and her husband Russ are currently living, working and traveling full-time in their 2016 Entegra Aspire 40P, Charlie-The-Unicorn RV.