Manufactured vs. Self-Build Vans
Van life has been growing in popularity over the years as people seek flexibility and freedom and the ability to work remotely has become more common. If you're considering joining the van life community, you've probably had the debate between choosing a manufactured van or converting a van yourself. Both options have their pros and cons, and the decision ultimately comes down to personal preference, skills, time and budget. In this post, I'll share some of the reasons why you might choose a manufactured van over a conversion.
I went through this same debate for about two years before ultimately deciding to purchase a manufactured van in the end. I know, I know… self-builds are always more aesthetically pleasing and you have the ability to configure your layout exactly how you want it. This was a huge internal debate for me as well, and I went back and forth about a million and two times (sorry mom and dad for the thousands of phone calls saying "I think I know what I want", then changing my mind the next day). I really wanted the Instagram-worthy white cabinets with the raw wood and shiplap ceilings, you know the look. And, it took me quite a while to research why this wasn't practical, for me at least. 
Purchase Right off the Lot
One of the biggest advantages of choosing a manufactured van is that it's a ready-made solution that is ready to use right out of the box. Everything comes pre-built so you are able to hit the road right away. You don't have to spend weeks, months or years (in some cases) sourcing and buying all the individual components, educating yourself, and building everything from scratch. This can save you a lot of time and effort, especially if you're not experienced in building and construction.
Warranty and After-Sales Support
Another advantage of buying a manufactured van is the warranty and after-sales support from the manufacturer and their dealers. This means that if anything goes wrong with the van or any of the components, you can get it fixed or replaced under warranty. You also have the peace of mind of knowing that the van has been professionally built and tested to meet certain safety and quality standards. Most manufacturers also post their wiring and plumbing diagrams on their website with a list of parts. This helped me when I had a piece in my plumbing freeze this winter and I was able to go on the website, figure out the part number and find it at the hardware store for a quick fix. Another thing that has helped me tremendously is the community behind the manufactured products. Each van has a group on Facebook with members/owners that have either had the same issue or a similar one and can help walk you through yours.
Dealer Support
After sales support is a huge reason I went with a manufactured van. I wanted to know that if I had an issue while on the road, I could go to any Winnebago dealer and they would have the resources and knowledge to fix the problem. I know this is a touchy subject for some owners as dealerships have not always been the best to work with in the past if you didn't purchase from them. Que National Indoor RV Centers – they are changing the game on how owners are treated, whether you purchased from them or not and with six locations across the US, you are sure to find service near you no matter where you are in the country. 
They are also Flying W Award winners two years in a row, which is not easy to achieve. What does this mean for you? This means you're working with a dealer who has been recognized by the manufacturer for going above and beyond for their owners.  
With free overnight camping spaces, you are fully taken care of your entire stay. They also have a customer lounge for you to hang out in while you wait complete with docking stations, wifi, coffee and sodas, and the best popcorn around 🙂
You will love working with NIRVC's Adventure Van Specialists. They work hand in hand with all of the top outfitters like Owl Vans Engineering, Canyon Adventure Vans, Backwoods Adventure Mods, CAtuned Off-Road, S&B Filters, Van Compass, Agile Off-Road, Timberline Elwell, RoamRig, Baja Designs, Inhabit Design Works and TOURIG. What is really cool is the NIRVC's  Adventure Van Specialists are incredibly knowledgeable about every product on the market and work with clients every day to customize their manufactured vans to meet their client's needs. It is like getting the best of both worlds.
Because manufactured vans are RVIA certified and recognized by lenders, they can be easier to finance than a self-build. This can make it easier to get a loan or lease to purchase the van. In contrast, self-builds can be more difficult to finance, as they are not recognized as a specific type of vehicle and may not meet certain safety or legal requirements. It is also difficult for lenders to assess the value of self-built vans.
Affordability
Oddly enough, a manufactured van can be more affordable than a self-build, particularly factoring in your time and labor and the ability to finance as you aren't paying for everything out of pocket up front. With a manufactured van, you are not paying for the time and effort of sourcing and building the individual components, especially with the price of materials right now. Manufacturers are also using economies of scale, which makes the vans more affordable. This means the manufacturers are able to purchase materials in bulk, reducing the cost per unit significantly.
 In contrast, there is always a chance that you are able to find someone that will donate their tools and time to help you with the build, if you don't already have them yourself, and you could easily figure out a way to do your build as cheaply as possible. Another option to consider is doing the build gradually and starting off with the bare minimum. This way you aren't paying for everything up front and are able to figure out what you need as you go.
Insurance
The majority of insurance companies will not insure a self-built van and even if they do, it is difficult to assess how much it is worth. The insurance company also does not know the quality of a self-build. So, it is easier to get a van through a manufacturer because the MSRP of the van is set and listed online. It is difficult to convince your insurance company that your van conversion meets the requirements to meet the standards of an RV. In the case of an accident, manufactured vans make it much easier on the insurance companies when it comes to having repairs done or replacing things with like/quality products. Most insurance companies will insure the empty van itself, but it is difficult to insure all the additional components like electrical and plumbing.
RVIA Certified
This is a big one. Getting RVIA certified is no easy feat. The RVIA has many rules to follow and while this makes it difficult on the manufacturers, it ensures that the consumers are safe and everything is up to code on quality and performance requirements. Some RVIA standards include electrical, plumbing, propane systems, structural standards, fire and life safety standards, and federal and state regulations for vehicle safety and emissions. These standards are regularly reviewed and updated to ensure they are up to code.
Time and Knowledge
I'm no plummer, and I sure as heck am no electrician. While I think it would be extremely satisfying to say I learned how to wire my own electricity thanks to TikTok and YouTube university, and I know I would learn eventually, I now have the peace of mind that it was done correctly and I didn't need to spend fifty hours watching endless videos over and over. If something isn't working correctly, I can either go to a dealer or to Winnebago's website. Winnebago has so many resources listed online for each specific vehicle from wiring and plumbing diagrams to part numbers, their resources and customer support are incredible.
Resale Value
A manufactured van may have a higher resale value than a self-built van because it's a brand and model that is well-known and recognized in the market. People are able to research the van extensively with the amount of information that is on the internet. A self-build is one-of-a-kind and may not appeal to everyone's taste or needs. A manufactured van may also have a higher resale value because it has been built by professionals and is likely to have a more polished finish and higher quality, reliable components.
Quality
Another reason why it's better to purchase a manufactured van is the quality of workmanship. When you purchase a manufactured van from a reputable manufacturer, you are getting a product that has been designed and built to high standards.
Manufactured vans are built using advanced manufacturing techniques and equipment, ensuring that each unit is consistent in quality. With a self-build project, the quality of workmanship may vary depending on the skills and experience of the builder.
Choosing between a manufactured van and a conversion ultimately comes down to your specific style, needs and preferences. Taking into consideration your budget, time, skills, and goals to choose the option that best fits you and what you need. If you want the convenience of a vehicle that is ready to go right away, a manufactured van may be your best option. However, if you prioritize being able to customize your build and have the time, skills, and tools to take on the project, building your own van may be a more rewarding option. Whatever you choose, the van life community will welcome you with open arms.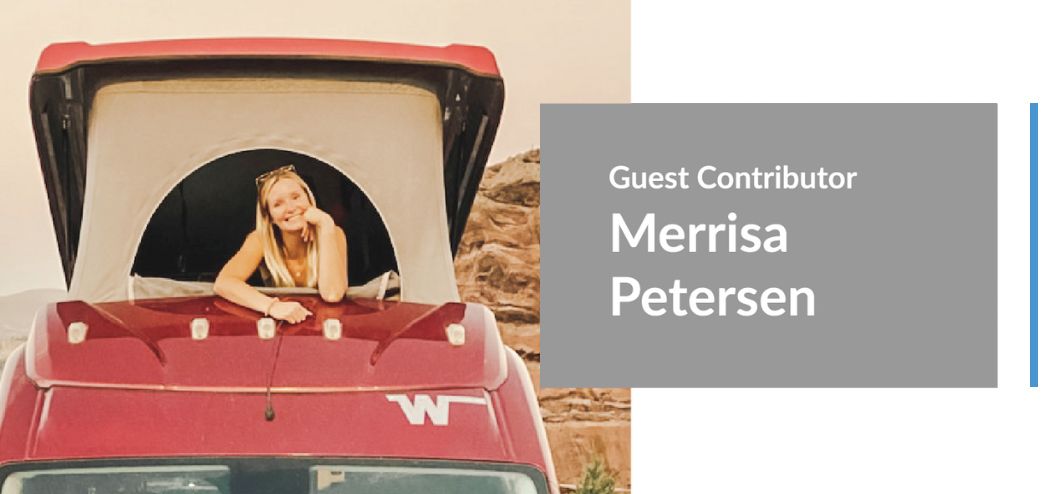 Having worked in the RV industry since 2017, Merrisa Petersen has been living and working on the road in her Winnebago Solis Pocket full-time since 2020. Her aim is to empower other women to seek adventure in order to instill confidence in their capabilities. Her travel companion is her dog, Jessa, and together they are committed to a sustainable lifestyle and leaving nature better than they found it.