I have spent the majority of the last three years living in various Winnebago Class B & Class C vans. Being able to try out different vans for long periods of time brought me a wealth of insights into what I was looking for when I purchased a van of my own. I had the opportunity to live in each of these vans for various lengths of time, some for a few months, some for a year, and was able to compare and contrast their features, strengths, and weaknesses. In this post, I will share my experiences living in each of these vans and provide some tips for those who are considering a similar van life adventure.
The first van I lived in was the Winnebago Boldt KL, built on the 170 Mercedes Sprinter chassis. This van is designed for luxury and comfort while also having off-grid capabilities. One of the most important features of the Winnebago Boldt is the Pure 3 Lithium System by Volta. This advanced energy system is made up of three 48V lithium-ion batteries providing 12,800 watt hours of energy, a high-performance alternator, and a power management system that optimizes energy usage. The Boldt's system capabilities allowed me to explore remote locations for days on end without worrying about my battery levels (why wasn't Starlink around when I had this much power?!). The Boldt's interior was homey, high-quality and functional, with a good sized kitchen and two twin beds that could be converted into a queen. The layout of the van worked great for my pup and I with separate beds and an open concept floor plan where we could open up the backdoors and have a straight view of the ocean while cooking dinner.  The dual-pane acrylic windows offered an extra layer of insulation as well as a good source of airflow.
What I didn't love: not having a dedicated workspace.  I would have preferred the layout of the Boldt BL with a dedicated space to work, eat and extra seating for transporting friends. I also didn't love the length. 170 Sprinters are fantastic if you need the space, but it felt a little too large for me as I'm a solo traveler and made it more difficult to navigate tight trails. 
Merrisa in Idaho with her Winnebago Boldt KL
The second van I lived in was the Winnebago Solis PX, built on the 159 Promaster chassis. I spent a year living in this van and enjoyed every minute of it. The layout was perfect, giving me a dedicated space to work and eat as well as a good sized kitchen, wet bath and full-size bed. I also had the luxury of being able to have friends stay with me without having to share my bed. The pop-top offered a second sleeping space all while giving them a cool "vanlife" experience. Not only did the pop-top provide an extra sleeping space, but it was also nice to have open for the extra airflow and natural lighting. The Solis PX offered an AGM battery system with a Cummins Onan 2800i gas generator. I loved the reliability of the generator as it ran off of my fuel tank. So as long as I had gas, I had power. I felt comfortable leaving my dog in the A/C with the generator on for a few hours without having to worry about running out of power.
Merrisa in the Bonneville Salt Flats in northwestern Utah
However, the Solis was not ideal for off-road adventures, and it was challenging to navigate narrow roads and tight turns with the combination of length and 2WD. Overall, the Solis is an excellent choice for those who prioritize comfort and convenience over off-road capabilities. 
Merrisa at Red Rocks Amphitheater in Morrison, CO in her Winnebago Solis pop-top
The third "van" I lived in was the Winnebago EKKO, built on the AWD Ford Transit chassis and coming in at a little over twenty-three feet long. This RV was the largest rig that I have lived in and it was pure luxury having so much storage space. This versatile and rugged Class C motorhome is designed to take you off the beaten path and allow you to explore the great outdoors in comfort and style. The interior of the Winnebago EKKO is modern and stylish, with high-quality materials and finishes throughout. My favorite part is the genius European design of the pivoting bathroom wall to save space and keep the bathroom dry when not showering. There are two twin beds in the rear that convert into a queen and are the most comfortable van beds that I have ever slept on. The kitchen is fully equipped with a refrigerator, a freezer big enough for ice cream (!!), a microwave, cooktop, and a sink. 
The biggest benefit of the EKKO is its size. It is not much bigger than a van and you get an insane amount of storage; both interior and exterior. Another benefit is the fifty gallons of fresh water capacity. Water is always my biggest drawback when staying off-grid for long periods of time and with the EKKO, I was able to stay in the middle of the desert for weeks on end (of course, this will depend on personal water usage). 
One of the most surprising features of the Winnebago EKKO is its off-road capabilities. The all-wheel drive makes this vehicle built to handle some of the more challenging driving conditions and I definitely put it to the test with some of the gnarly off-road roads we went down. This was also the only vehicle that I have never gotten stuck in.
Merrisa having fun with her Winnebago EKKO
The fourth van I have lived in is the Winnebago Solis Pocket, built on the 136 Promaster chassis.  This is the van I ended up purchasing after spending time learning what I did and didn't need in the other vans. The Solis Pocket is a great combination of most of the things I loved about the other vans. It has a dedicated work space, a second bed for friends, plenty of storage, a decent sized kitchen, and a full bed. I can't take it off-roading per say, but the short length makes it easier to get to places that a longer van may have trouble accessing. I can also whip a u-turn without having to do a three point turn and that was important to me ;). After spending time in the other vans, I decided that a bathroom wasn't as important to me as I once thought it was. This van is perfect for me as a solo traveler because of its size and surprising amount of storage.
Merrisa working from her Winnebago Pocket
Living in these four different Winnebago Class B vans provided a wealth of insights into the vanlife lifestyle. Each had its unique strengths and weaknesses, and it was essential to consider my priorities and needs when choosing a van. Some essential considerations include the van's size, storage space, fuel efficiency, off-road capabilities, and comfort features. If you are considering a vanlife adventure, take the time to research different van models and consider your priorities and needs carefully. With the right van, vanlife can be a rewarding and freeing experience.
But, living in a van isn't just about the vehicle itself – it's also about the lifestyle it enables. When you're traveling in a van, you have the freedom to go wherever you want, whenever you want. You can camp in remote locations, explore national parks, and get up close and personal with nature in a way that's simply not possible when you're staying in a hotel or traditional RV park.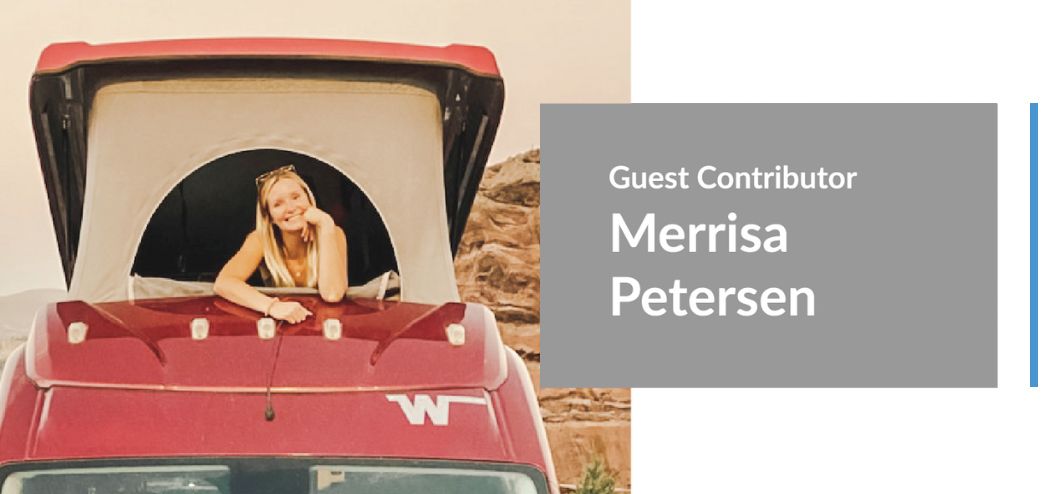 Having worked in the RV industry since 2017, Merrisa Petersen has been living and working on the road in her Winnebago Solis Pocket full-time since 2020. Her aim is to empower other women to seek adventure in order to instill confidence in their capabilities. Her travel companion is her dog, Jessa, and together they are committed to a sustainable lifestyle and leaving nature better than they found it.