Freightliner Custom Chassis Corporation (FCCC) has been one of the most respected and top-trusted chassis manufacturers since its inception in 1995. They have risen to the top of the industry, producing custom chassis for both school and commercial busses and delivery vehicles in addition to motorhomes. They're a name now synonymous with RVs, producing more than half of the market in Class A diesel motorhome chassis. They're focused on customer needs, "deliver[ing] superior performance, safety, reliability and customer support," fortifying their place among the leading RV manufacturers around the globe.
An RV has a lot riding on its chassis – literally! As the framework to a motorhome, the chassis is where it all begins. The chassis of an RV determines the maximum weight allowed and overall design of a Class A, Class B or Class C coach. As NIRVC Founder and CEO Brett Davis puts it, "the most important part of a motorhome, the most undersold part, and the least researched part is the chassis." Simply put, it is the most critical component of an RV.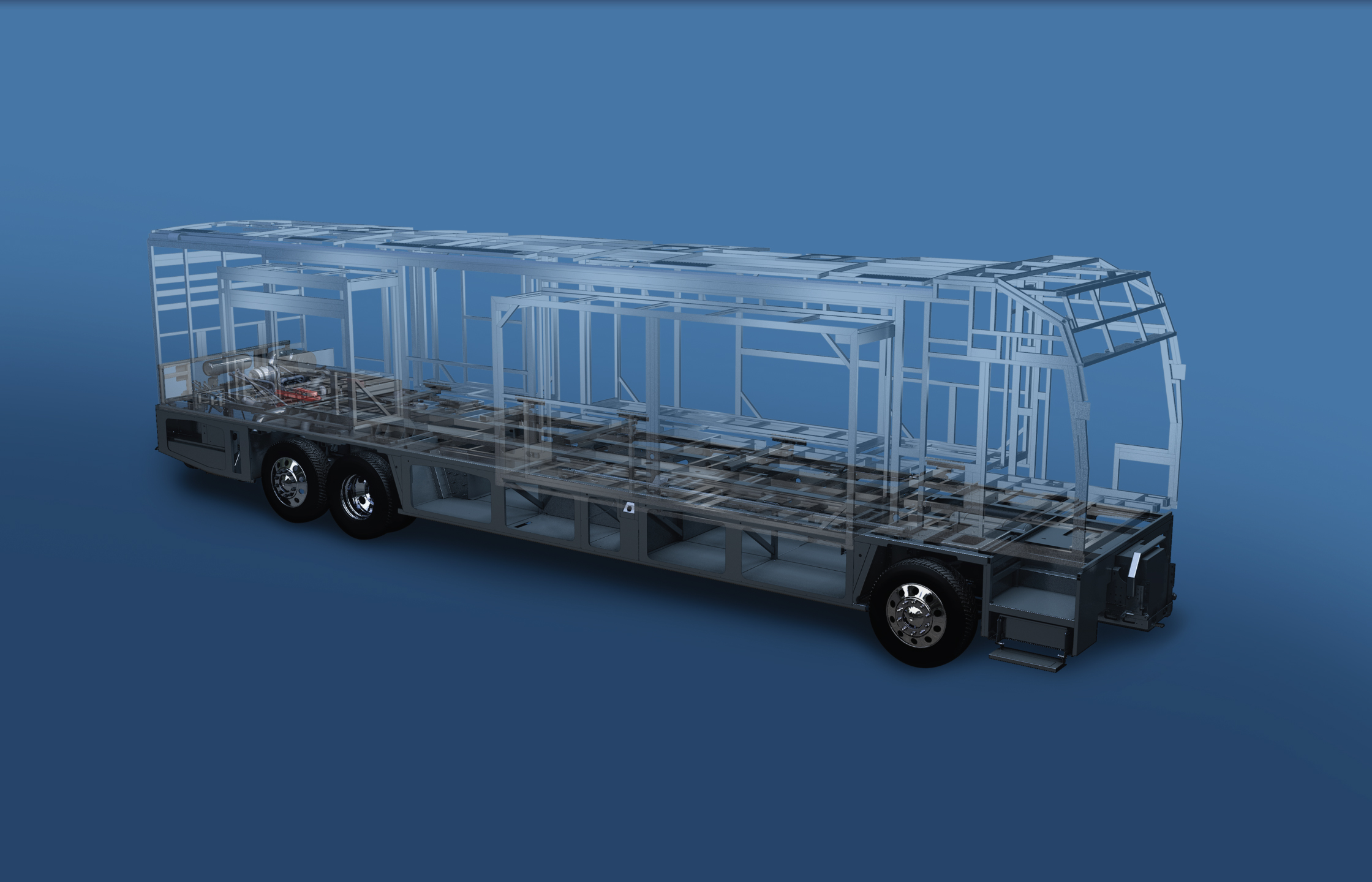 Freightliner Custom Chassis
Chassis from FCCC serve as the foundation to countless motorhome manufactures and the basis to some of the most recognizable RVs in the industry. Just look at the number of instantly recognizable, fan-favorite motorhomes that utilize chassis from FCCC!
Freightliner Custom Chassis are the foundation for these RV models:
American Coach
– American Dream
– American Eagle
– American Tradition
Entegra Coach
– Accolade series
Fleetwood RV
– Discovery
– Frontier
– Pace Arrow
Holiday Rambler
– Armada
– Endeavor
– Nautica
– Navigator
… and that's only a select few! With an extensive lineup like this, it's no wonder that National Indoor RV Centers has a great working relationship with FCCC.
FCCC outlines three core principles to their approach: value (bang for the buck), technology (innovation and FCCC's refined details) and, most importantly, customer service and warranty. FCCC builds in quality on the front-end rather than simply inspecting for it later. RV ownership is a journey, complete with errors, incidents and accidents. But FCCC recognizes this journey, which is why they offer lifetime support on their vehicles, even if you're not the original owner – another great bonus for the owner of an RV built on an FCCC product.
Freightliner Custom Chassis Factory Experience
NIRVC Founder and CEO Brett Davis and Director of Sales Angie Morell were allotted the Freightliner Custom Chassis Factory Experience. You'll see FCCC product strategy, logistics center, assembly line, customer service center and more in this valuable and educational video.