Robin Buck, a full-time RVer and travel blogger, shares her firsthand experience with NIRVC.
One of the things we've discovered about owning a motorhome is that it can be hard to find reliable places to get quality service and other work done. When you spend your hard-earned money on the perfect recreation vehicle, you want to do everything you can to take care of it and keep it in excellent condition – especially when you're full-timers like us, and your RV is also your home.
My husband and I are so lucky to have found National Indoor RV Centers (NIRVC) six years ago. Their mission is to provide an outstanding, hassle-free motorhome ownership experience – and they deliver on that goal!
NIRVC simplifies motorcoach ownership with offerings including sales, service, storage, paint and body, wash and safety products. The privately held company was founded by partners who are also motorcoach enthusiasts and know and understand the RV lifestyle. You can truly feel the difference when you walk into an NIRVC dealership. You are part of a family who is invested in YOU!
There are NIRVC facilities in six metropolitan areas across the country: Dallas, Atlanta, Phoenix, Las Vegas, Nashville and Washington, D.C. The company has a projected expansion plan to add even more locations about 500 miles apart, so RV owners will always be within a day's drive from an NIRVC location. We definitely feel much more comfortable knowing that we have a reliable service facility nearby as we travel across the U.S.
The Sale is Just the Beginning
NIRVC is a great place to purchase and sell your RV. While their team of knowledgeable specialists can help you find the perfect vehicle to meet your needs, their work doesn't end with the sale. They make sure you understand everything about your new coach and even encourage staying at their on-site campground after you buy it. During our three nights at the campground, we had ample time to test things out, ask questions and get assistance with any issues.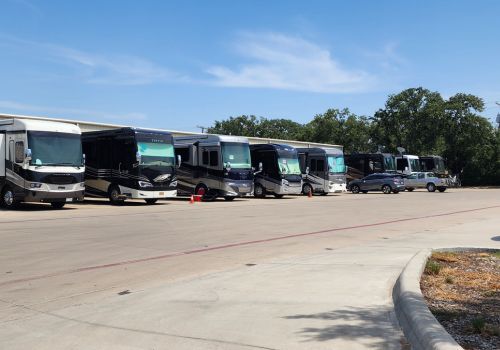 NIRVC offers great financing options, including extended service agreements. We purchased our 2019 Entegra Anthem from NIRVC, and the experience was so much better than all of our previous purchases elsewhere. Plus, nothing is as exciting as Blue Bow Day, when you finally become the official owners of your new coach!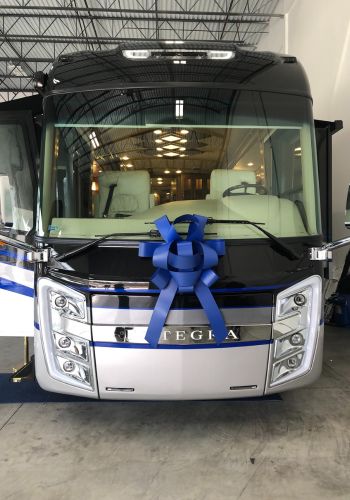 If you have an RV that you want to sell, NIRVC can help you out there, too. Their RV consignment program simplifies the selling process by giving you the added marketing power and sales staff of the company. As an added bonus, the Consignment Specialists handle all of the sales paperwork and make sure everything goes smoothly from start to finish. The sales price is also credited to your new purchase, which helps discount the total tax bill on the new coach.
A Dedication to Service
Everything you need can be accomplished in NIRVC's state-of-the-art facilities: mechanical repairs, paint and body work, parts, tires, even satellite TV. Their highly skilled technicians are pros at diagnosing problems, handling factory recalls and taking care of any issue. NIRVC can do warranty and extended warranty work, as well as individual component repairs such as refrigerators, washers and dryers.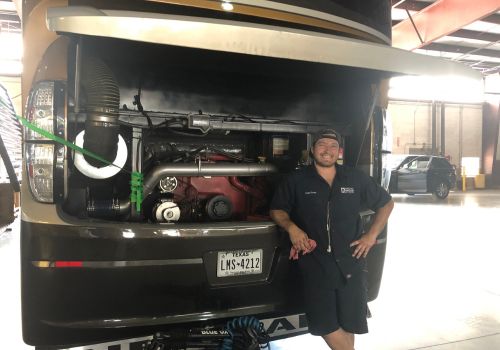 At every NIRVC location, you'll find a group of talented people. When we visited the Dallas Lifestyle Center, we had a wonderful service team working for us. Adrian, our service advisor, did an excellent job of coordinating all of our service and repairs. He was the key interface with all of the departments and kept things on track.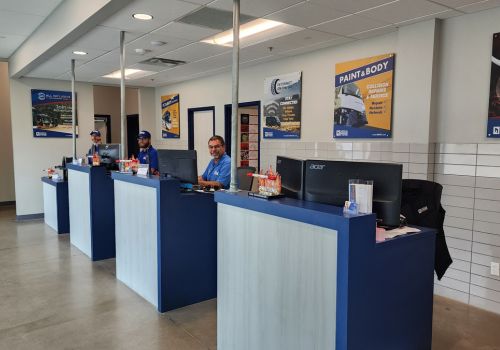 Sean is the Paint & Body Director at the Dallas Lifestyle Center. His shop does outstanding work; the old or damaged becomes shiny and new as his team works their magic.
The key to our repairs was the service technicians who were easily able to diagnose and correct the mechanical issues with our coach. NIRVC's recent conversion to a 7-day work week meant our service was completed even sooner.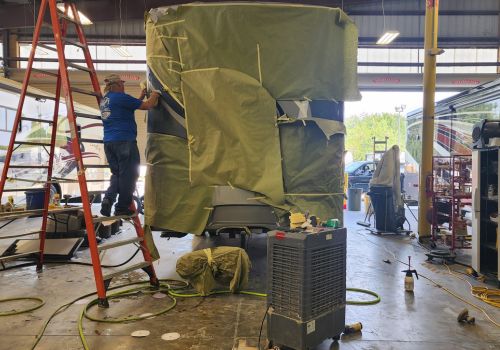 You can either drop off your RV at the NIRVC facility and come back when the job is finished or wait in their large, comfortable waiting area while your coach is being serviced. Cold drinks and snacks are available, and leashed pets are welcome to wait with you. If you need to stay overnight, campground spots with electric and water hookups are available so you can sleep in your own bed.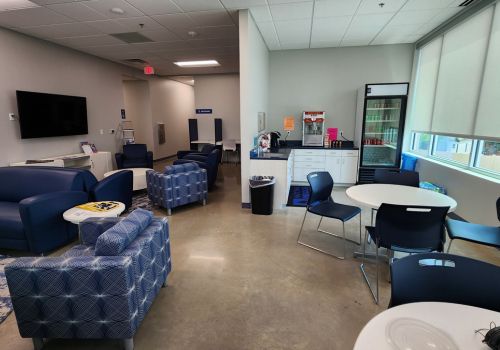 Safe and Convenient Indoor Storage
When you purchase a coach, you want to make sure to protect your investment. Many neighborhoods don't allow storing your RV at home due to size and appearance restrictions. As their name says, NIRVC offers secure indoor storage for your motorhome. By storing your RV indoors, you protect it from sun damage in the summer and frozen pipes in the winter. Garage-stored vehicles require less washing and usually have a higher resale value. To top it all off, your vehicle will be prepped and ready to go when you arrive to pick it up for a trip. Now that's convenient!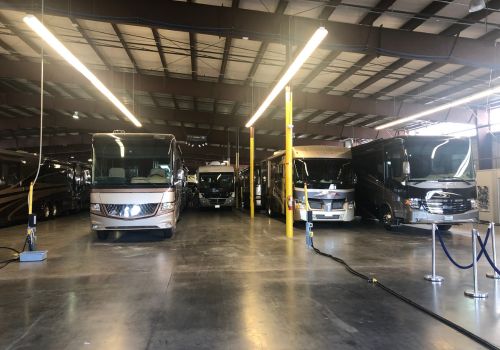 Professional RV Cleaning
We've learned from experience that cleaning and washing a large motorhome is a lot of work to do by yourself. Luckily, NIRVC has a hard-working Wash and Detail team to take care of that for you!
The technicians use advanced, high-quality equipment and materials to handle it all – even hard to reach spots like the roof. The Bitimec machine at the Dallas location makes the job go much faster, while using less water and detergent than conventional washing methods. It's better for the environment, and you get to start off your trip with a nice clean coach!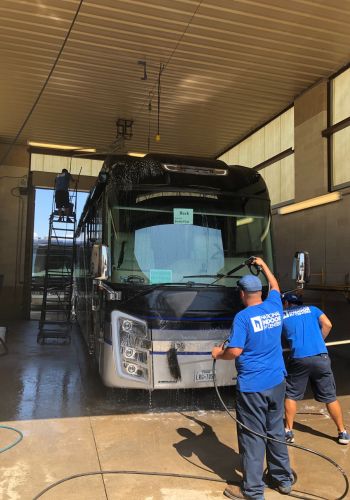 A Focus on Safety
We all want to be safe on the road. NIRVC continues to look for ways to improve the RV experience and offers several aftermarket products that provide safety, protection and convenience:
The Ultimate Customer Experience
NIRVC is not just another RV dealership. They are an innovative company with a well thought out vision they've stood by since they were founded. Their overall objective is to offer a concierge level of service and take the hassles out of motorcoach ownership.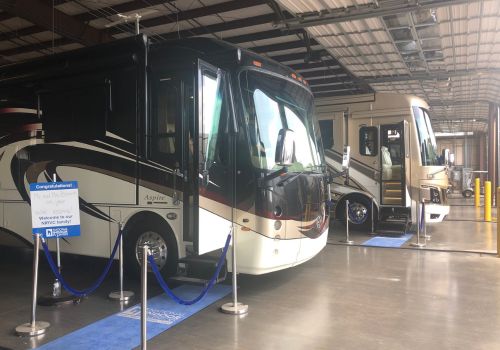 The Atlanta and Dallas NIRVC locations have recently converted to 7 days a week operations because, let's face it, problems don't only occur between Monday and Friday. The other locations have plans to follow suit.
Additionally, having two teams at each location provides workers with continuity and has proven to be a huge benefit for employees and their families. Offering more hours of operation is helpful for RV customers as well, since you don't have to wait three to four weeks to get an appointment.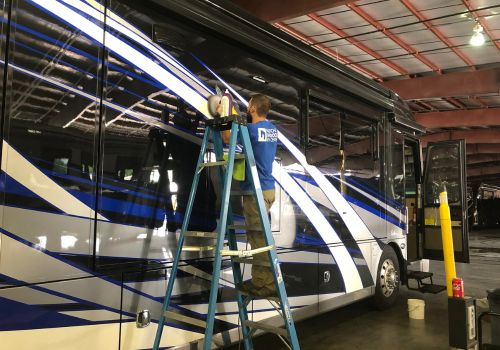 NIRVC's Workflow computer system tracks everything companywide – from inventory to scheduling. While it is still a work in progress, they are making continual improvements in the parts acquisition process, streamlining warranty work approvals, and managing the tasks for each repair.
Also in the works is a tool in which customers can schedule appointments, request parts and track work order status in real time. It's nice to know the leaders of NIRVC are forward-thinking with the goal of improving not only the customer experience but revolutionizing RV industry standards.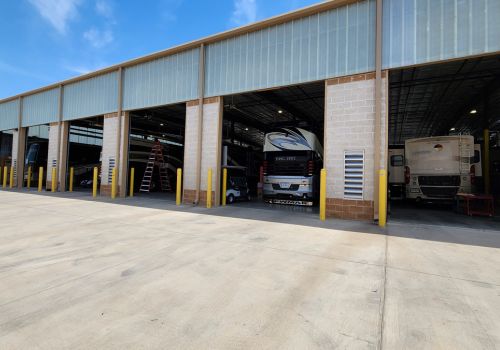 As you can probably tell by now, I am a big fan of NIRVC! We've purchased a motorhome from another dealer and have had service done elsewhere, but none fully compare to NIRVC. The staff treats us like family and has our backs when we need any type of service or product. Their annual Customer Appreciation Rallies are lots of fun, and their All-Inclusive Motorhome (AIM) Club promotes opportunities for friends, food and unforgettable memories.
No RV dealer or service center is perfect, but NIRVC comes close and remains our go-to place for all of our RV needs.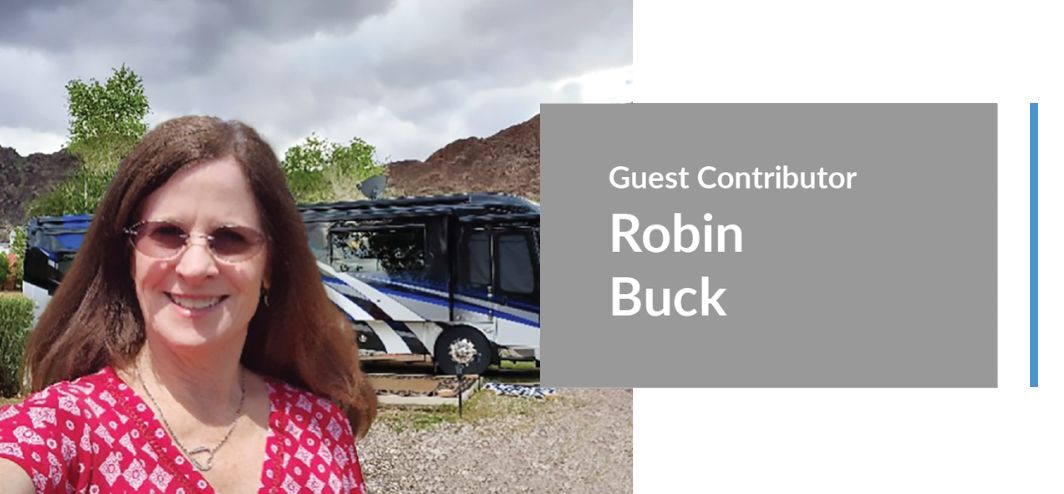 Robin and her husband, Mike, are Air Force veterans and empty nesters who have been traveling full-time in their Entegra Anthem motorhome for 5 years. Always ready to explore, they love nature and wildlife, meeting new friends and discovering America one stop at a time. Robin writes about their travel adventures, RVing tips, and the full-time RV lifestyle on her blog RVing with Robin.