RV Shows & FMCA Rallies with AIM: 10 Reasons You Need To Save These Dates!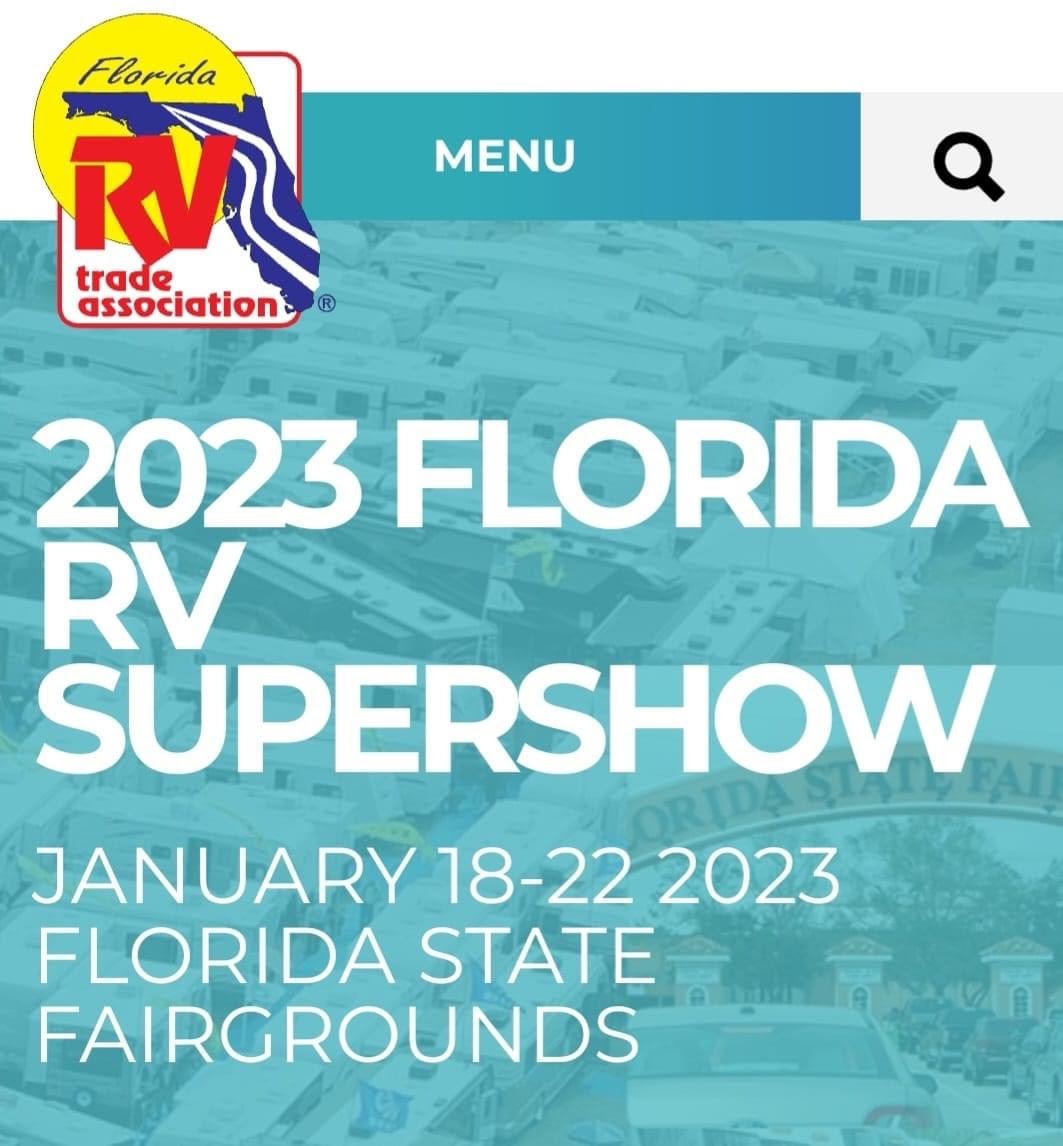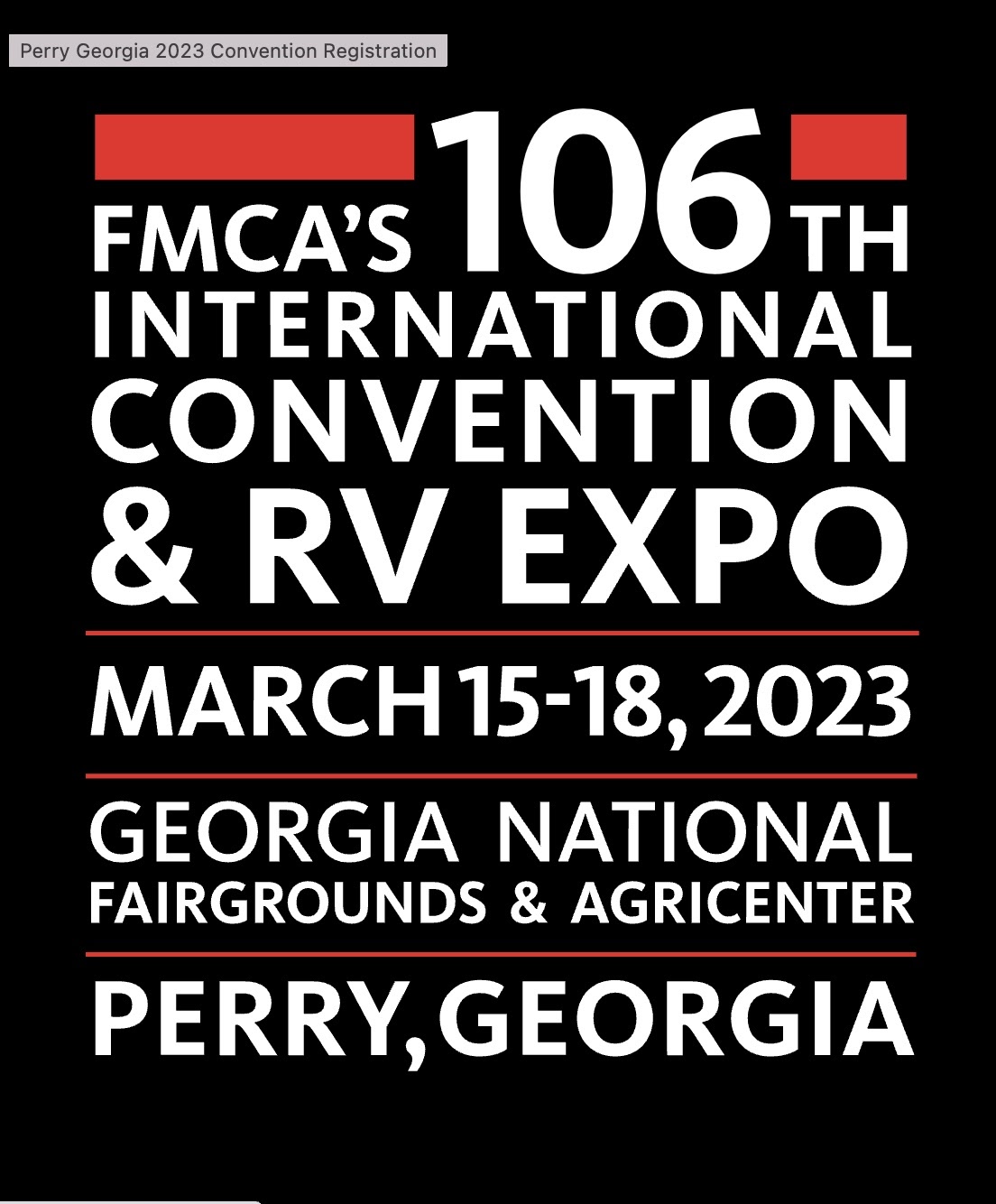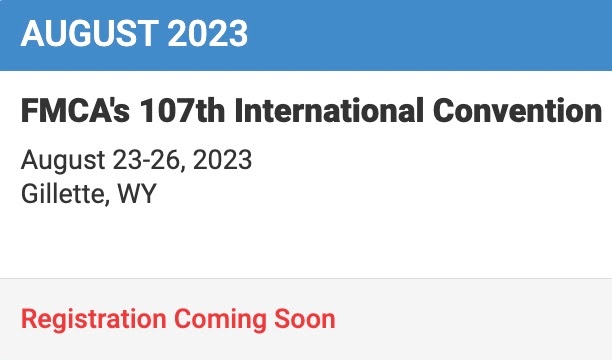 Annual RV Shows & FMCA Rallies – It's that time of year! Open up your brand-new calendar and SAVE THE DATE(S) FOR 2023!
RVTA, FMCA & AIM
The Big Three Events with AIM Club in 2023:
Why only three RV events?
There are hundreds of different RV shows, rallies and events across the U.S. every year. 
FMCA (Family Motor Coach Association) sponsors two of the biggest, with the bi-annual International Convention & RV Expos above. FMCA also sponsors hundreds of regional rallies and smaller gatherings.
Other organizations sponsor RV events all over the country, including well-known shows in Quartzite, AZ in January and Hershey, PA in September.
RV manufacturers host different types of rallies and events at their "mothership" (factory) or nearby (usually in fairgrounds or campgrounds in the area).

Dealers also get into the action, like NIRVC hosting their annual "Customer Appreciation Rally" events for customers each and every year.
Our focus here will be The Big Three: FMCA International Conventions & RVTA's Florida RV SuperShow, because that's where NIRVC & AIM Club will be in 2023 – and that's important!
RV Shows, Rallies & Events
Most of us, as RV owners (or soon-to-be RV owners! 😉) have probably attended an RV Show at one time or another. They're all over the place! I mean, what better place to wander around for a day:
Dreaming about camping in comfort and style.

Learning about RVs, comparing types, models and prices.

Exploring all of the accessories, memberships and camping possibilities.

Researching everything you could possibly hope to find out about RVs. 

Buying an RV!!! (Whether you meant to or not…)
My husband and I wandered through three small, regional RV Shows before unexpectedly becoming Entegra owners in 2020. (We didn't realize we were looking to buy a big Class A Motorhome, but the pandemic was a crazy time!)
Before we became RV owners, we had no idea you could actually camp at RV shows. We didn't know anything about FMCA. Or other membership organizations. Or RV rallies. 
Thank goodness we wandered into the Florida RV SuperShow in Tampa last year as day visitors and bumped into The All Inclusive Motorhome Club (AIM)!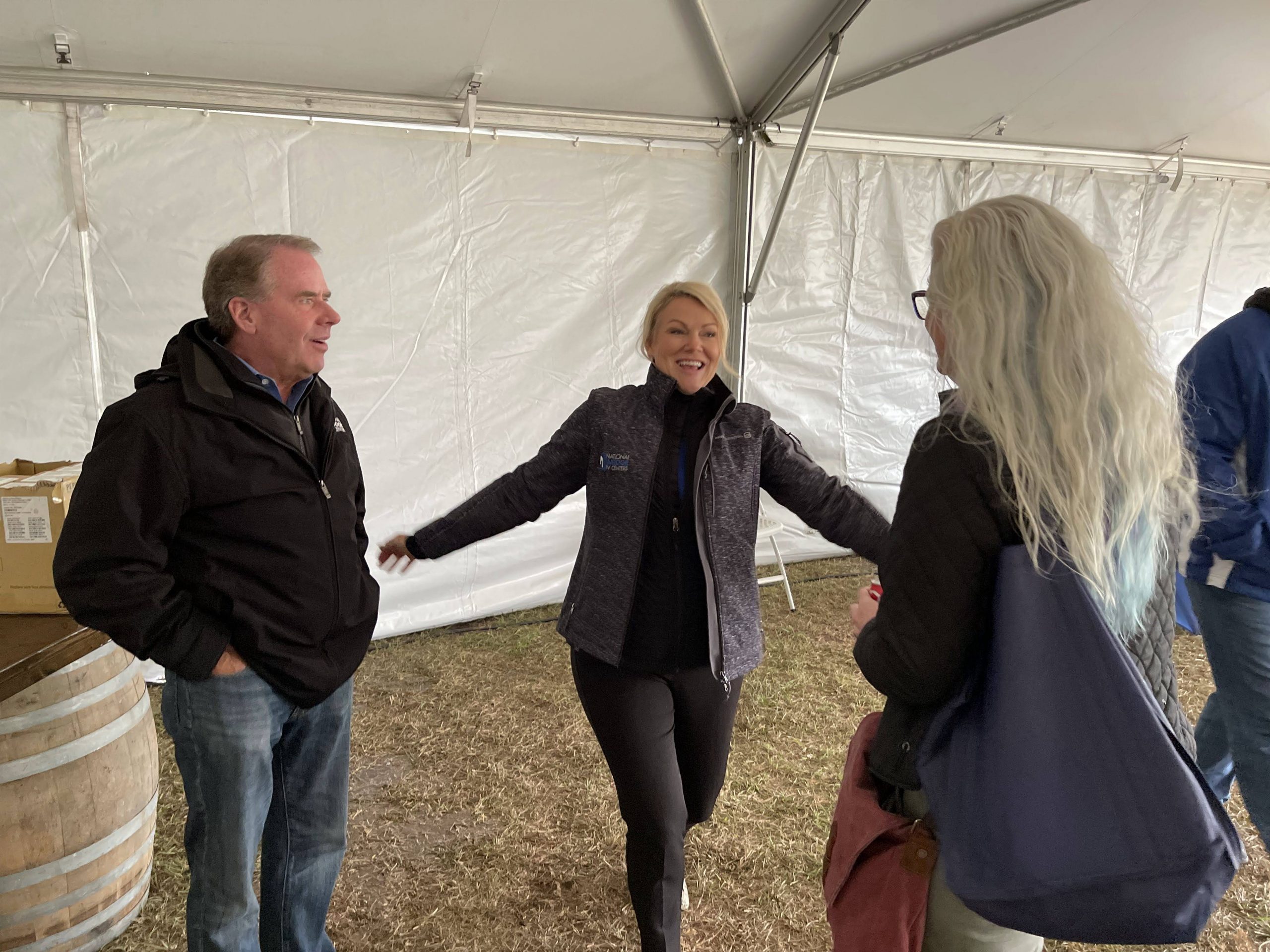 Meeting Angie & Brett in the AIM Tent (Closing Day)
We are currently in our second year of living, working and traveling full-time in our 2016 Entegra Aspire. It's taken us that long to get the hang of RV shows, rallies and events, as owners. Sometimes I'm still not sure we're doing it right. 
But we do know enough to schedule the dates and plan our itinerary accordingly. We don't want to miss out on the fun of the season… And seeing friends! 
Our experience with AIM Club at outside events:
Jan 2022 – Day Visitors at the Florida RV SuperShow (Tampa)

Mar 2022 – Tucson, AZ FMCA Rally w/ Entegra Caravan & AIM

Aug 2022 – Lincoln, NE FMCA Rally w/ AIM Caravan
Camping with AIM Club
You're already an AIM Club Member, right?
If you purchased your motorcoach at National Indoor RV Centers – NIRVC, you received one year FREE membership to The AIM Club in your new owner's package. If it's been more than a year, or you purchased your motorhome elsewhere – it's okay! 
Any owner of a Class A, B or C motorized coach is encouraged to join AIM for Exclusive Member Benefits & Discounts, including Member Rallies & Events. Click here to Join/Renew AIM Today!
However you became a motorcoach owner, it's time to elevate your RV show, rally and event experience!
Register and attend one of

The Big Three

: The Tampa Show or FMCA International Conventions (Rallies) – with your RV, in the campground

Caravan with AIM (more about that in the reasons below)
If not this year, the calendar for these Big Three Events will be basically the same next year – January, March, and August – so you have plenty of time to plan (and register) ahead.
Note: These events are NOT AIM Club Rallies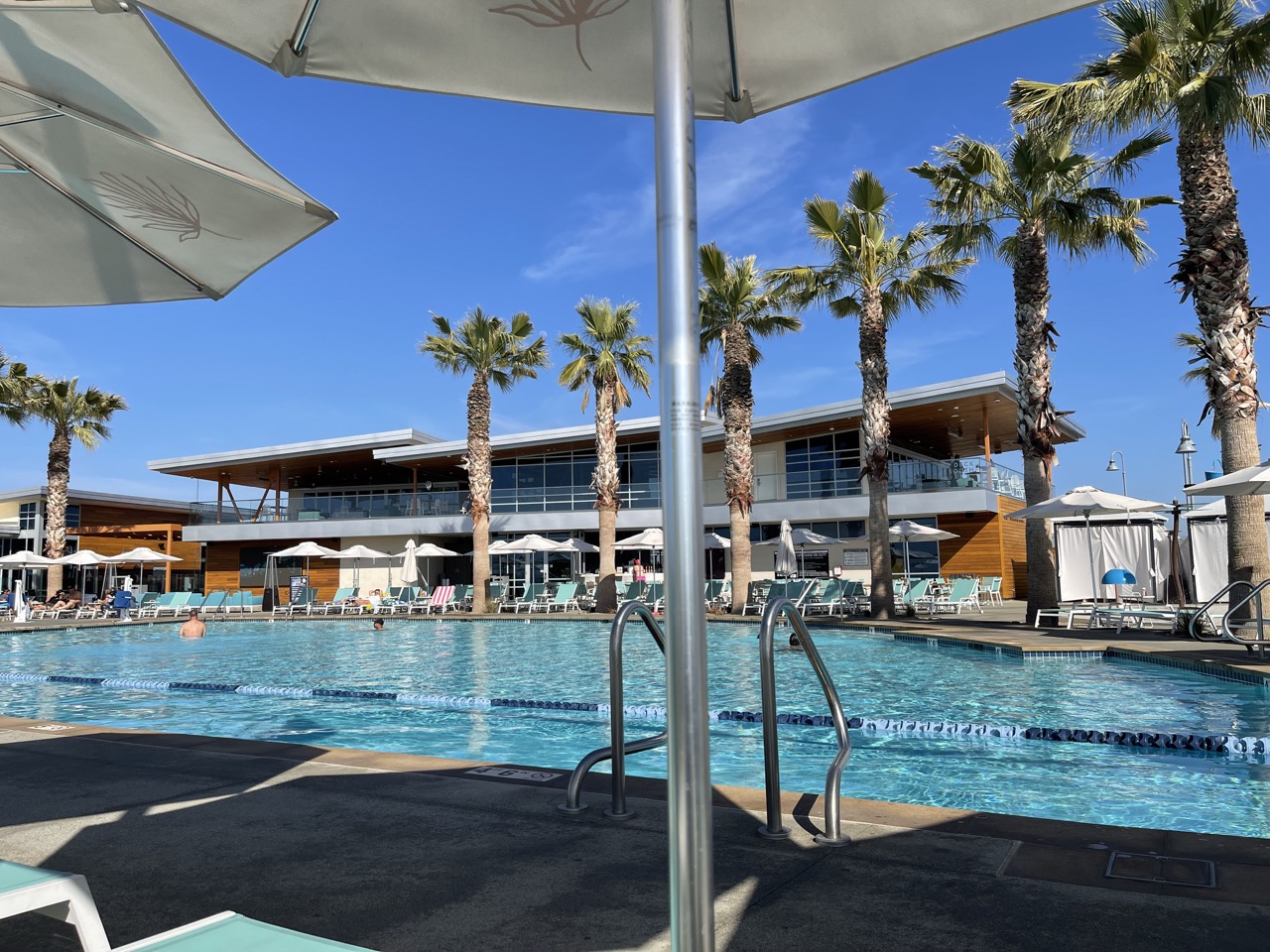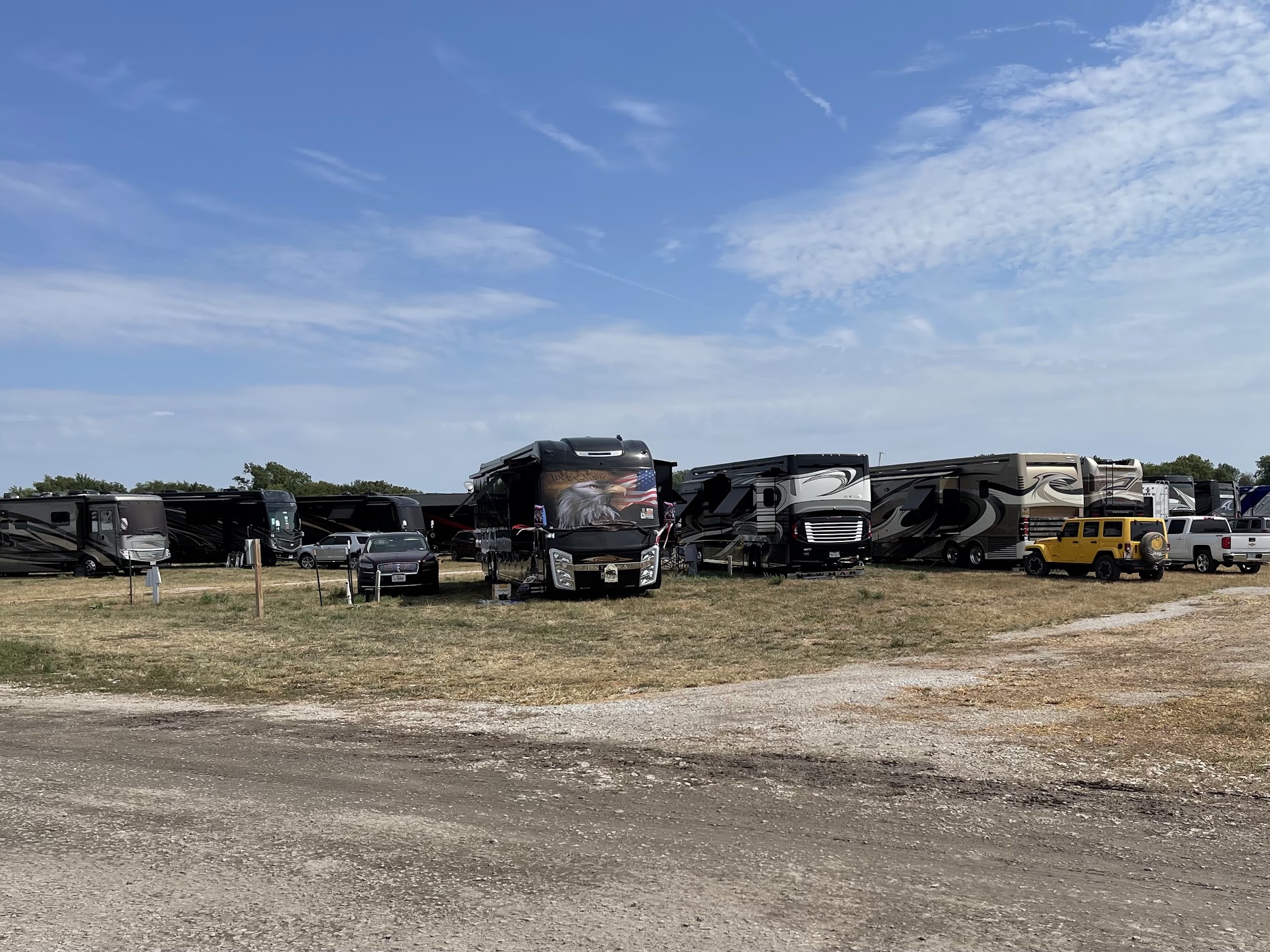 CA Dreamin' AIM Club Rally
THIS IS NOT THAT. RV Shows & FMCA Rallies with AIM Club, caravaning (camping together in a group) at these events is very different: More rustic in accommodations and services. I'll explain more below. 
You should definitely experience both!
RV Shows & FMCA Rallies with AIM: 10 Reasons Why You Gotta Go!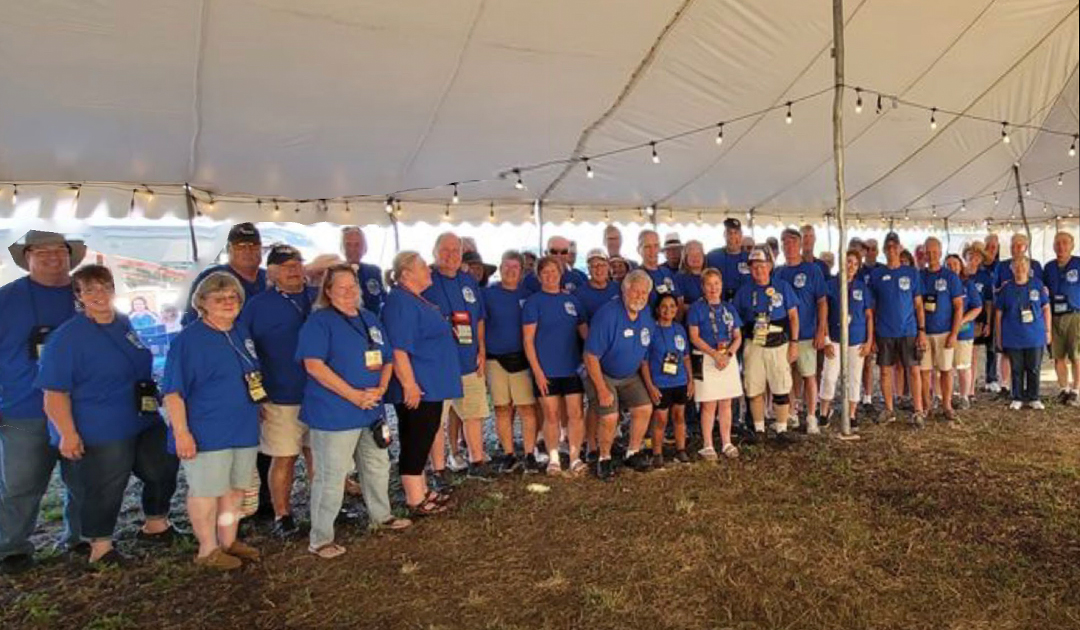 Let's face it. RVing can be a lonely adventure sometimes, especially if you're full-timing. RV shows and rallies are a fantastic way to find community out on the road – meeting new people, making new friends and connections.
We consider many of the people we've connected with at RV shows and rallies new best friends and family on this extraordinary adventure. With some of them, we've arranged to meet up again in our travels. 
RV shows and rallies give us a chance to come in from the wild and hang out with the tribe for a week. It is a truly special and memorable experience.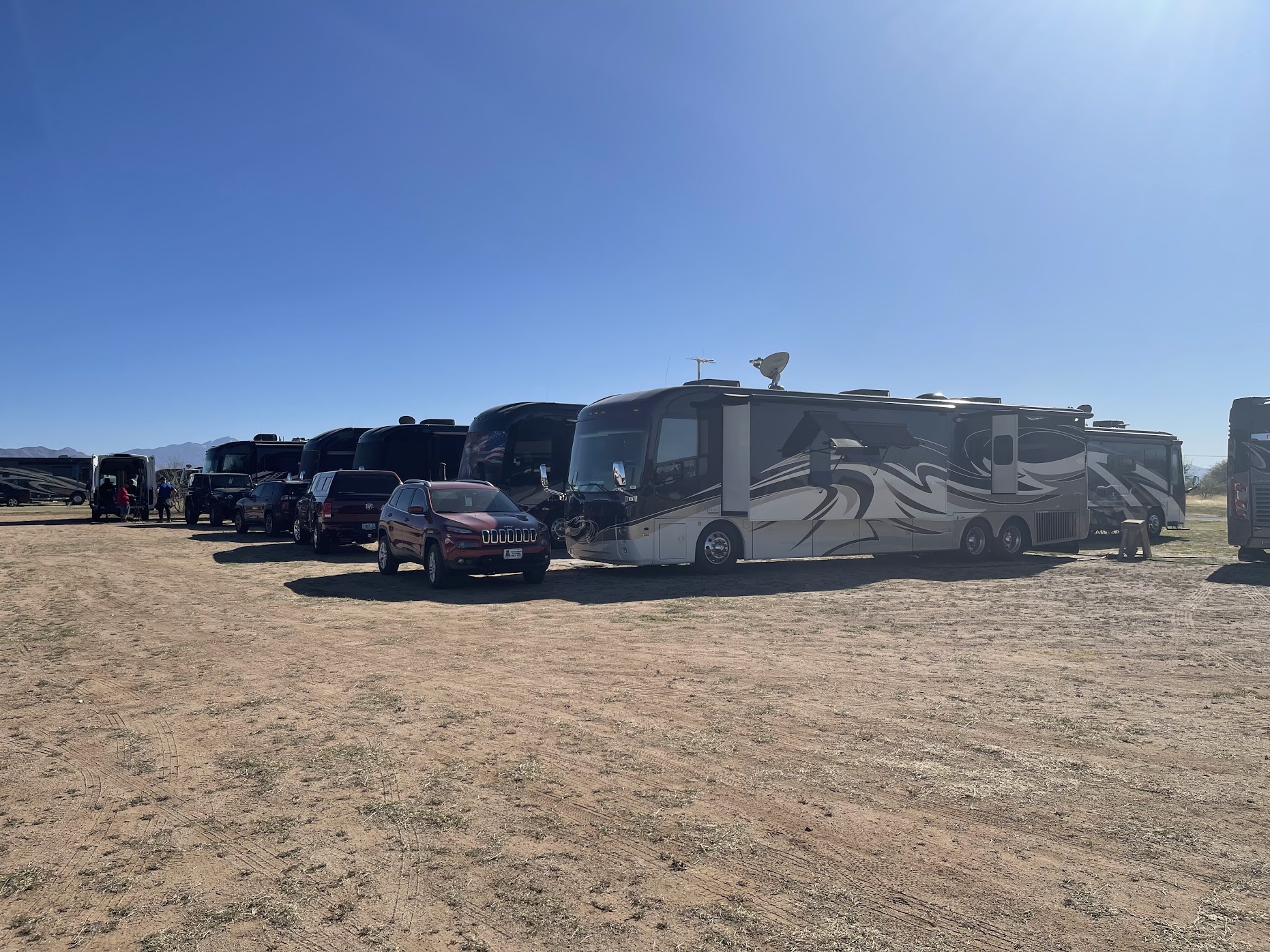 FMCA Tucson Entegra Caravan
2. RV Chapters & Neighborhoods / Caravans
As new RV owners, new to rallies and events, we didn't understand the concept of RV Chapters and Caravans. When we joined FMCA and started to learn more about rallies, we realized there was a lot more to it!
FMCA Chapters are smaller associations within the big organization:
Quote: FMCA has nearly 400 chapters across the United States and Canada. Some cover a specific or general geographic region. Others revolve around a particular RV brand or model.  (from FMCA's Join A Chapter)
At FMCA Rallies, chapter groups can caravan in and park together, so it's like a small neighborhood within the larger camping area. Many of these groups host their own "onsite rallies" with potlucks, entertainment and social activities.
While AIM Club is not its own FMCA Chapter, like the Entegra Coach Owner's Association or the Diesel RV Club, it is an officially recognized caravan group – or neighborhood – at The Big Three Events.
We'll talk more about that below!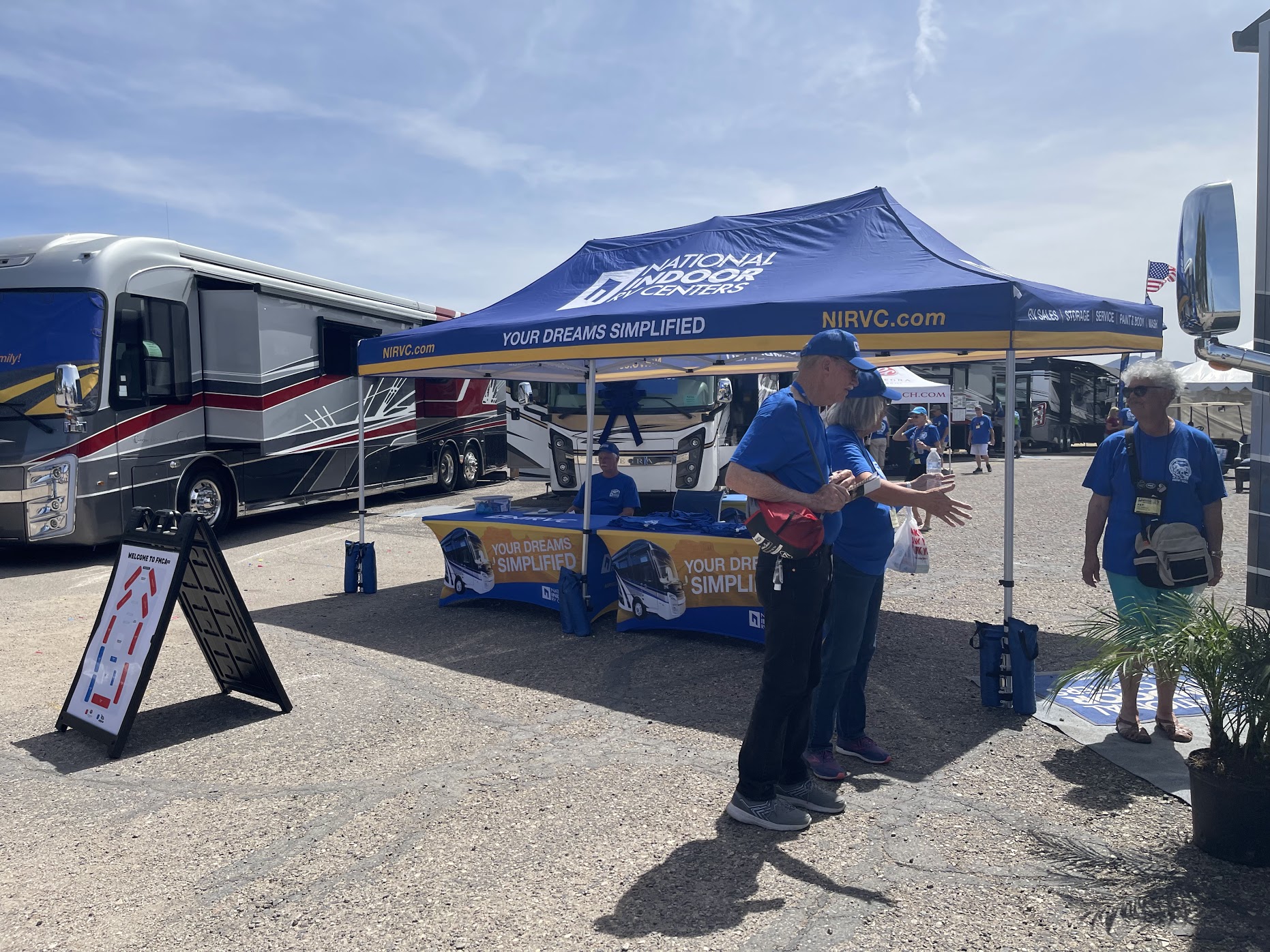 NIRVC Display at FMCA Tucson
Are you in the market for a new RV? Even if you're just looking or dreaming… RV shows and rallies are the place to SEE them all! Dealers bring in brand-new models for display: For Sale!
The stickers are "in the window" (so to speak), with MSRP and option lists. There are Show Specials and deals to be made. (The dealers don't want to drive all those RVs back to the lot!)
RVs of every size and type are all lined up for side-by-side-by-side comparison of different types, classes, brands, models, equipment and accessories. Talk about the ultimate window shopping experience! And you get to go inside and see all the things: Open all the cabinets and doors. Push all the buttons. Explore new decor, color schemes and accessories – in real life!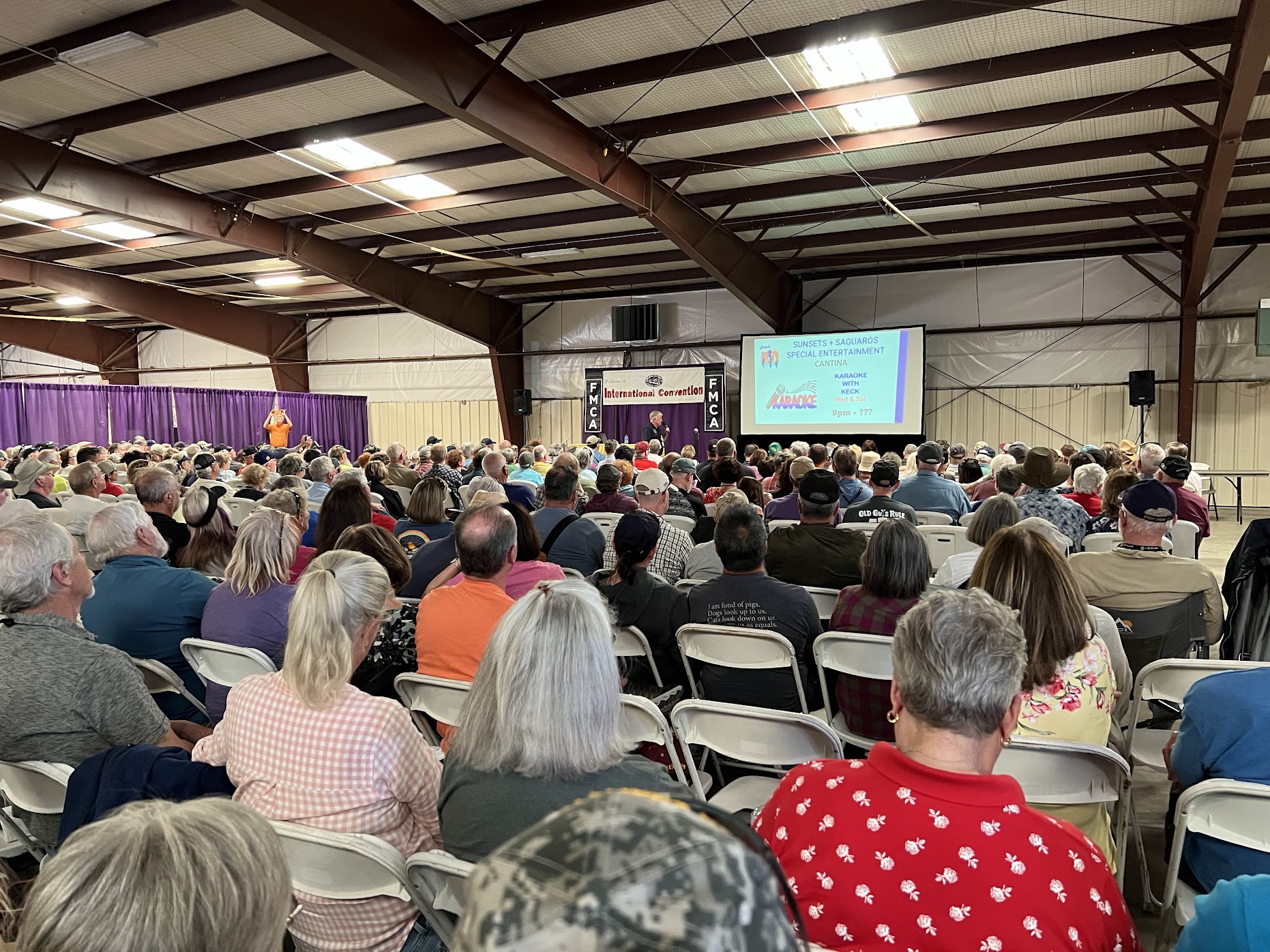 FMCA Tucson First-Timer's Orientation
What better way to learn about RVing, RVs, and the lifestyle than hanging out with a thousand RV owners for a week? Imagine the combined decades of experience!
Beyond that informal learning experience in the camping area, there is a daily schedule packed-full of seminars and demonstrations with RV vendors and event sponsors. Every day!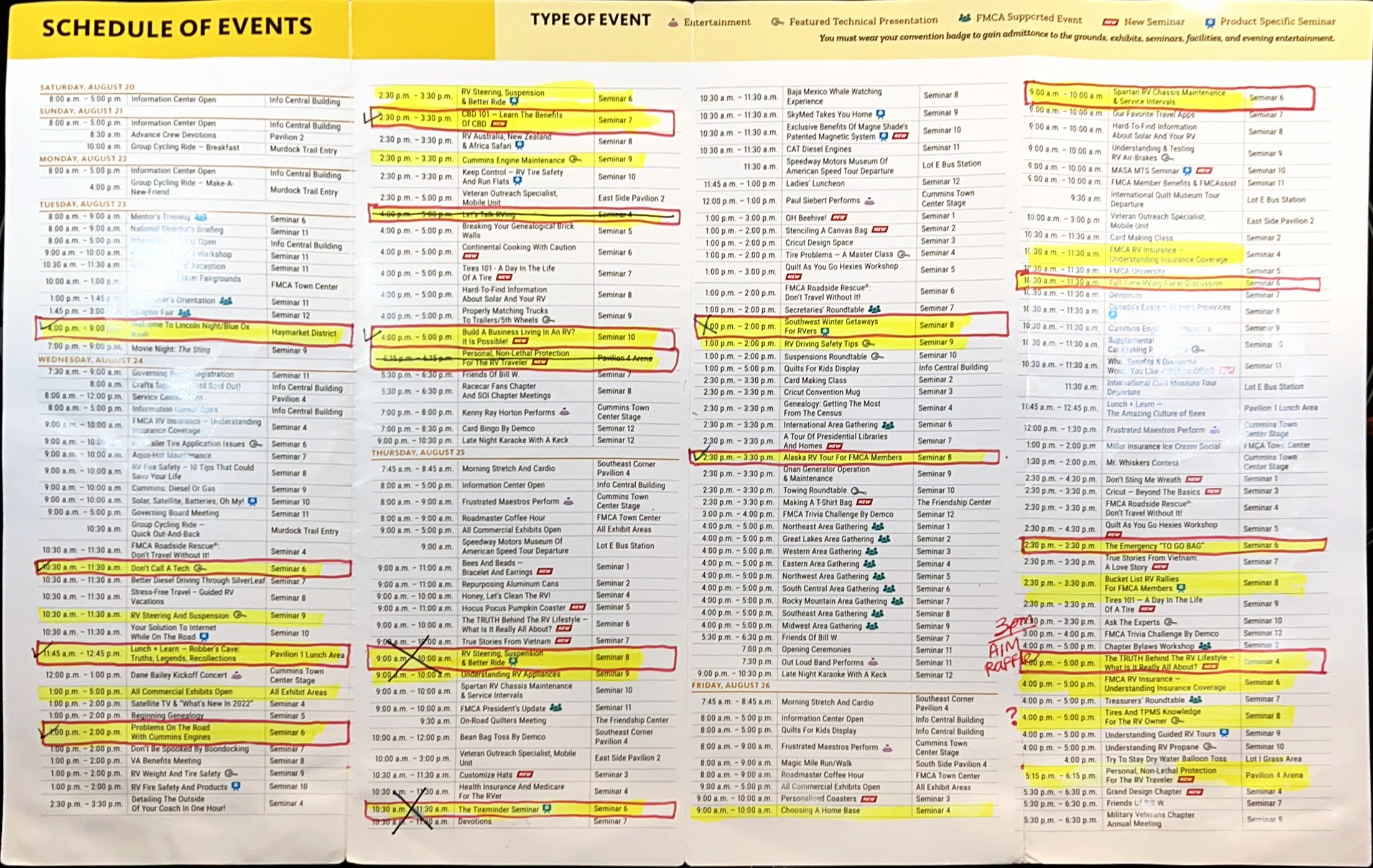 Sherri's FMCA Lincoln Schedule of Events
You can learn anything and everything. Maybe more than you ever wanted to know: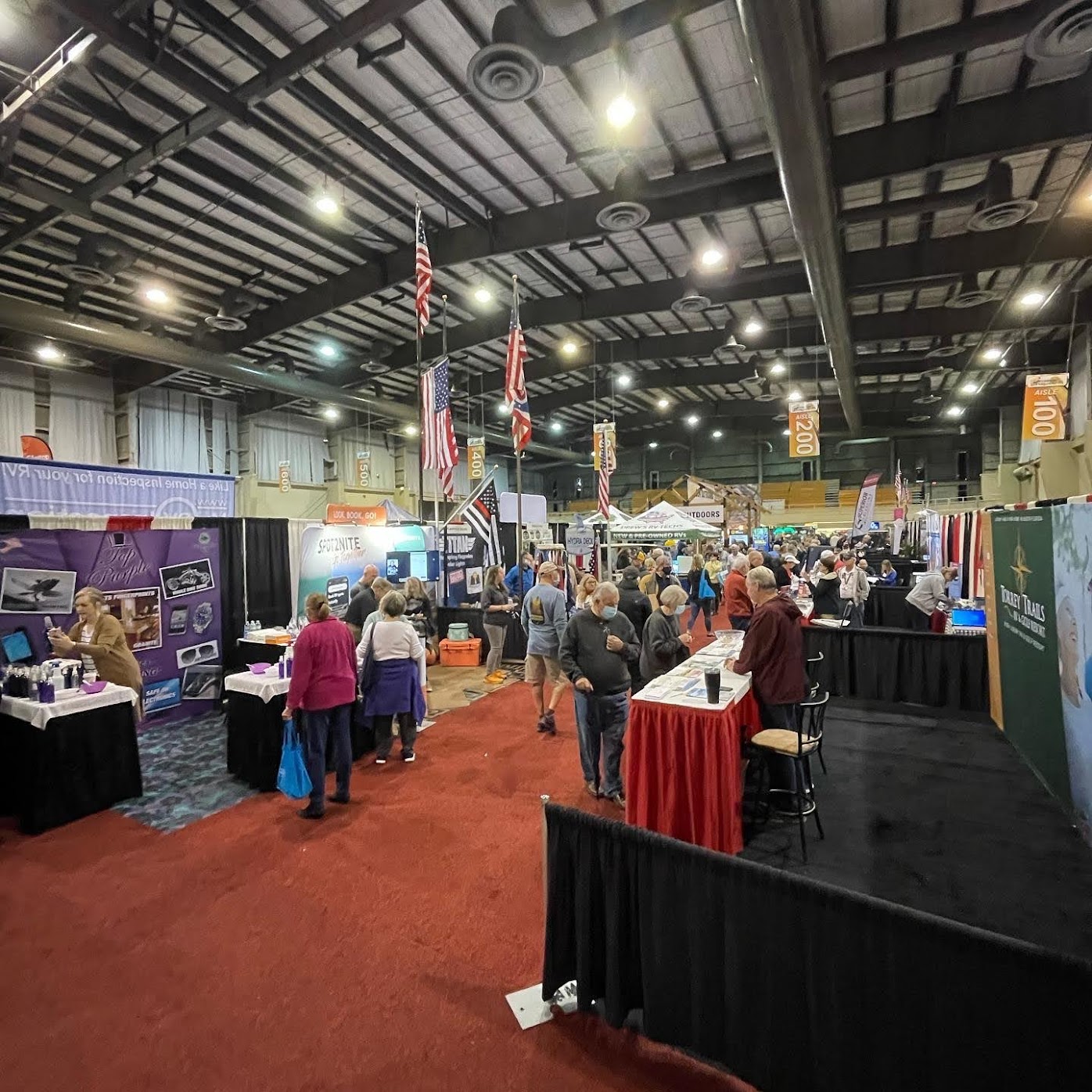 Exhibit Hall – Tampa Show
You might not know you need it, but you'll definitely find it at the Tampa RV Show & FMCA Rallies!
RV shows & rallies are a great opportunity to find specialty products, all in one place (and get your steps in, too!) at hundreds of vendor booths in the exhibit hall(s) or street markets:
RV pieces, parts & equipment

RV products for organization, cleaning & safety 

RV art & decor (outside mirror covers, anyone?)

RV gadgets & electronics

RV services: Insurance, Financing, RV Properties, Memberships & Campground/Resort Info
I have to admit, I'm not a shopper. We keep a running list of the things we're searching for: Goals for 2023! We did buy our TPMS (Tire Pressure Management System) from TireMinder last year, at the Tampa Show.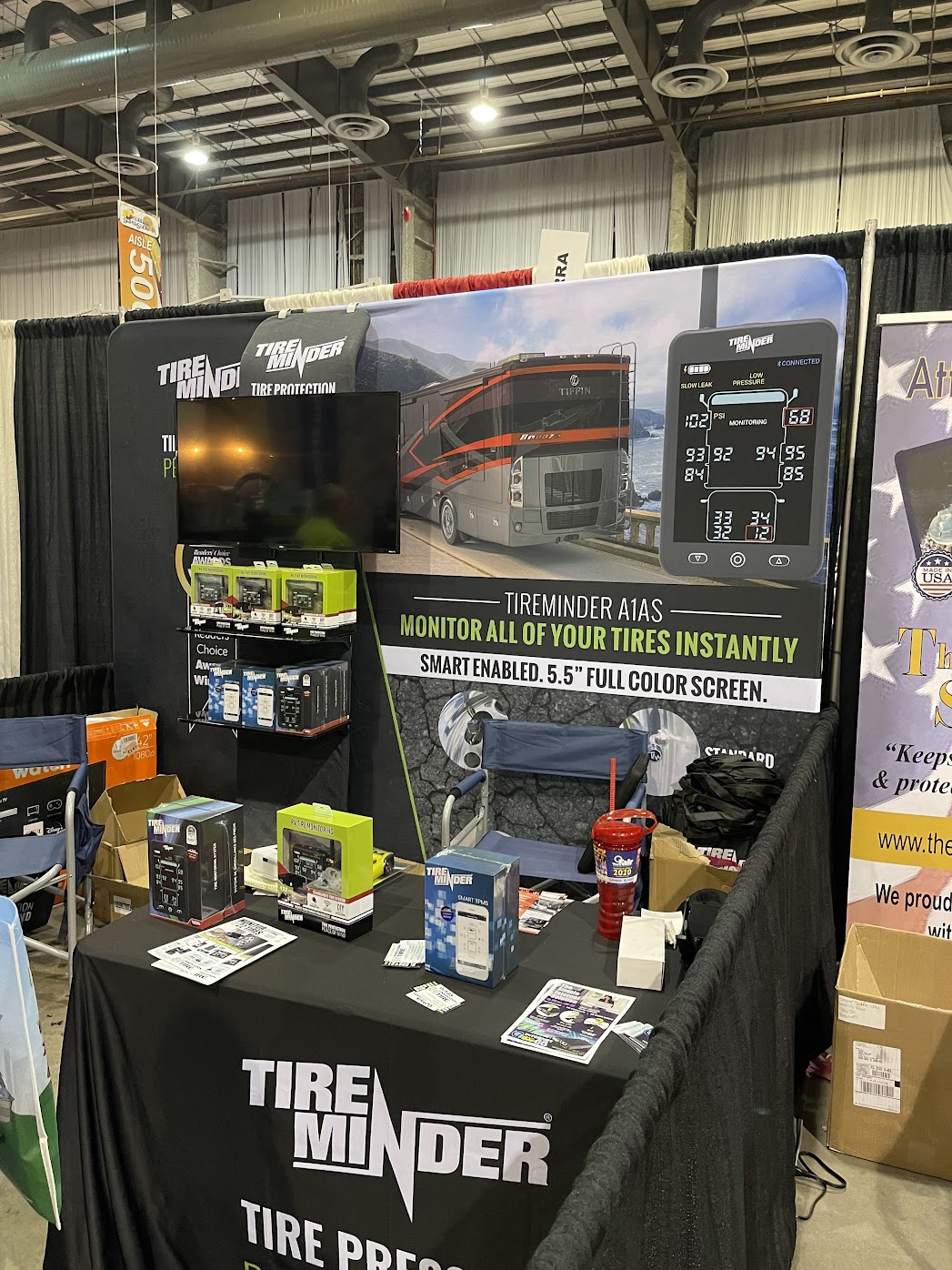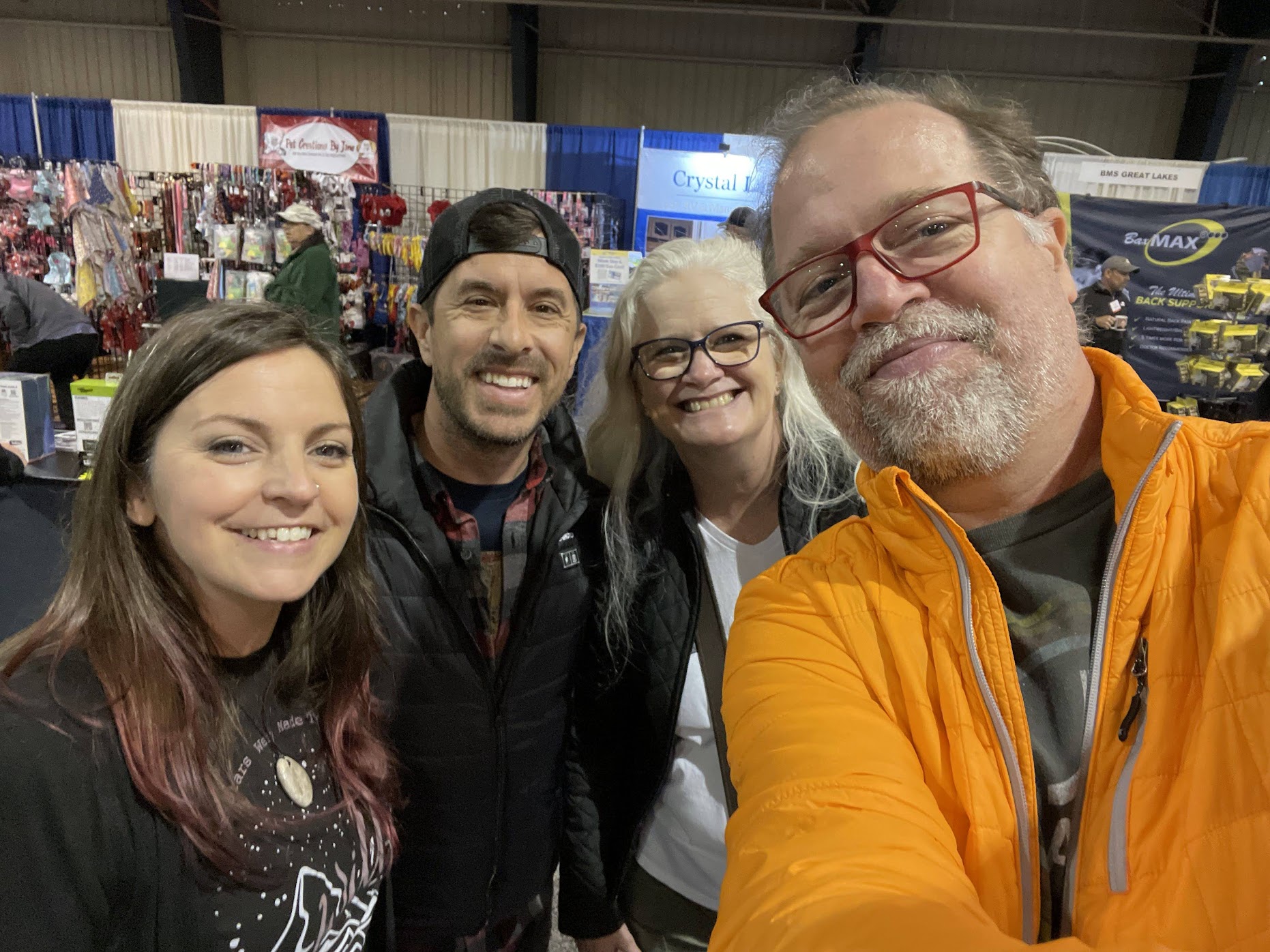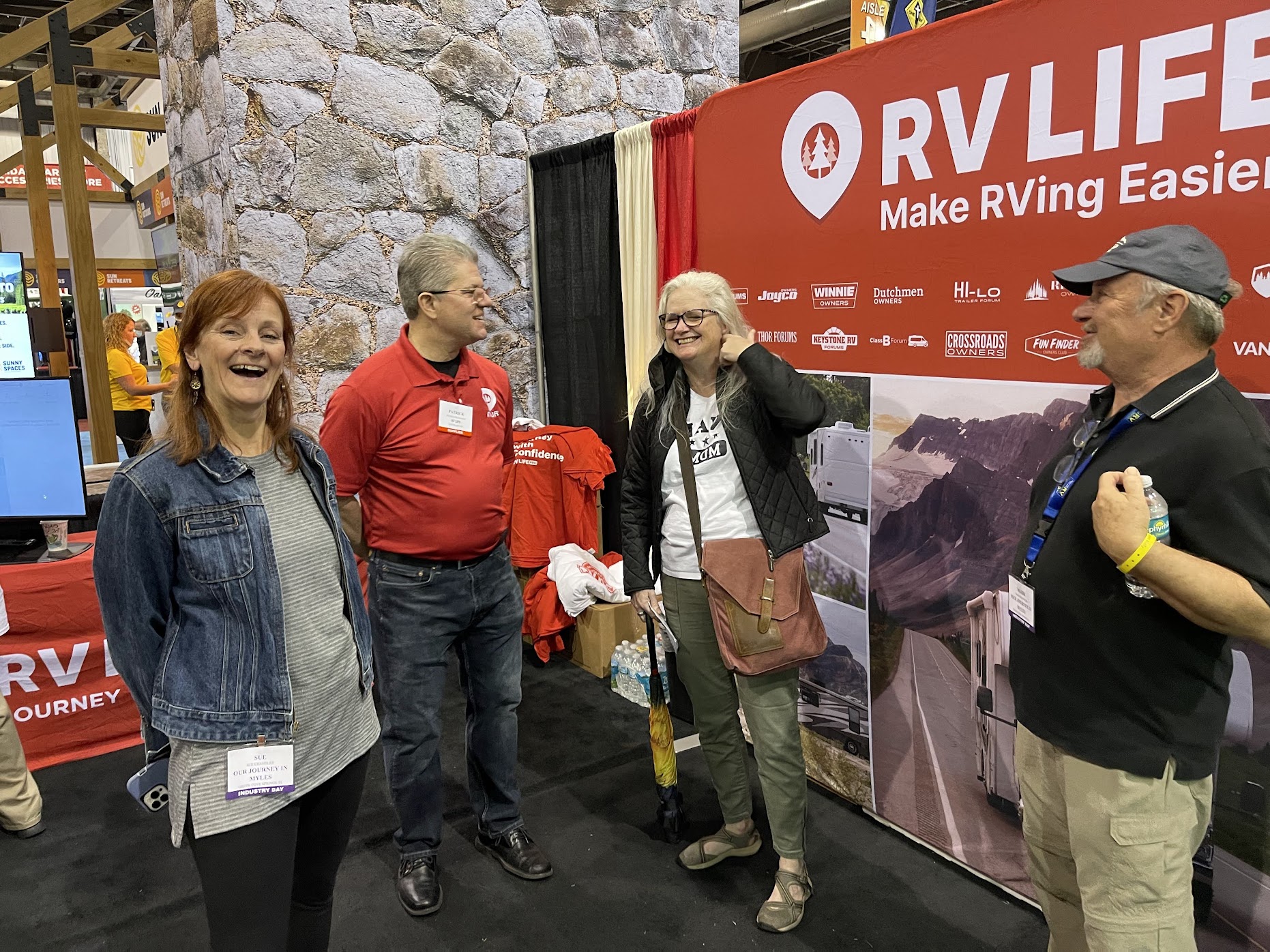 Mark & Sue (Our Journey in Myles) at RV Life
It's a lot of fun to walk around and SEE all the things and people at the show. Many of our favorite RV YouTube Superstars attend The Big Three, meeting & greeting fans and working with sponsors in the booths. It's always fun to catch up!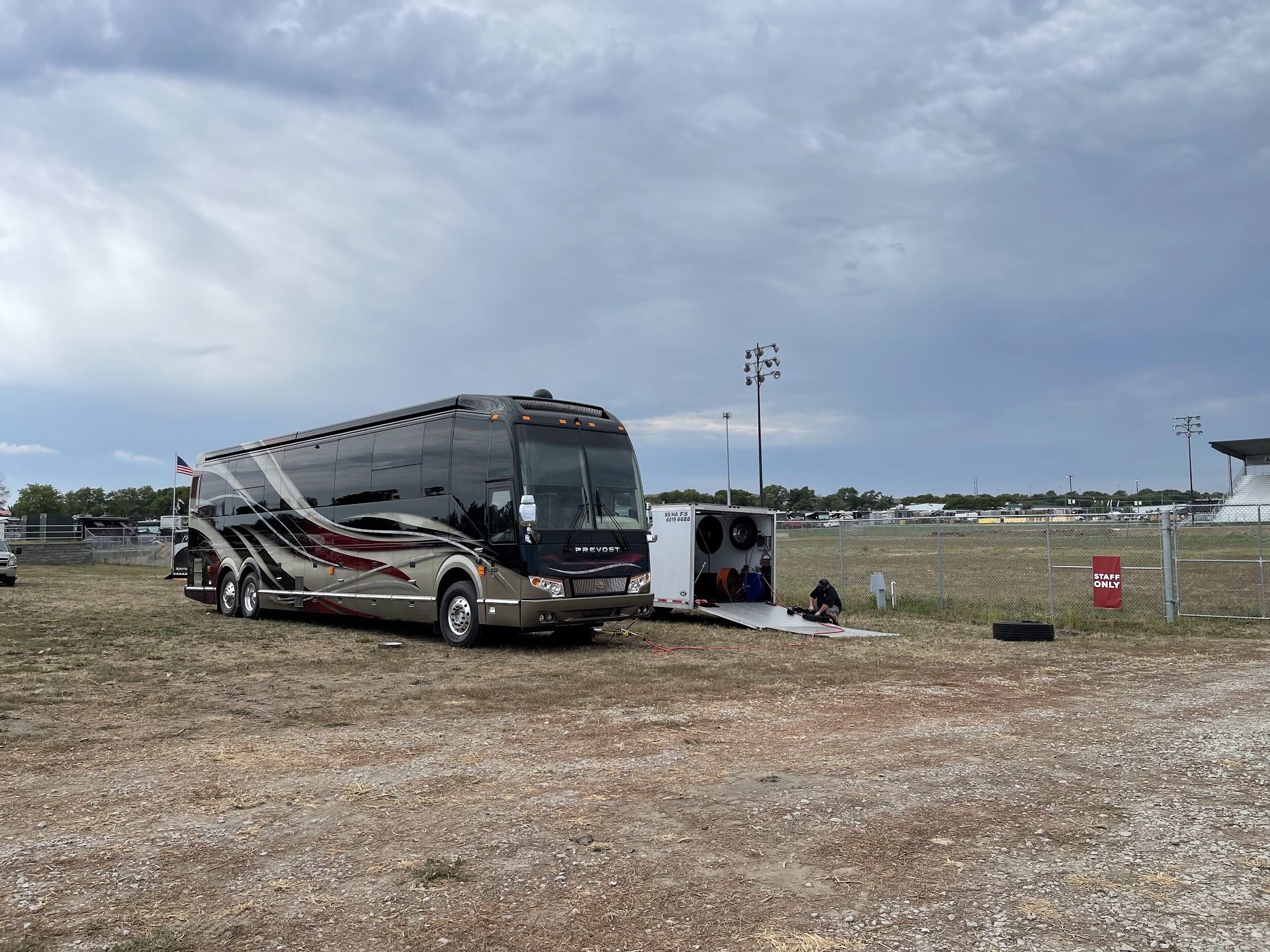 AIM/NIRVC Service Truck installing RettroBand® Tire Safety at FMCA Lincoln
While we have not had much success with shopping (which is our own fault), convenient, on-site RV services at the shows and rallies are a godsend for full-time travelers!
It is super easy to schedule services at the shows and rallies – generally, they'll come to you:
Sign up before the show (FMCA sends out email with service appointments you can schedule in advance).

Sign up at the show, at the vendor booths or during seminars.

Sign up with service trucks in the camping area.  
You can flag the service trucks down on the roads or approach them when they're working on a neighbor's rig. The techs are always happy to hand you a business card and let you know their schedule.
We were able to have ProTeng Fire Suppression installed in the camping area at FMCA Tucson – there was a Show Special for AIM Members. We had two foggy windows repaired in the lot at FMCA Lincoln. Super convenient!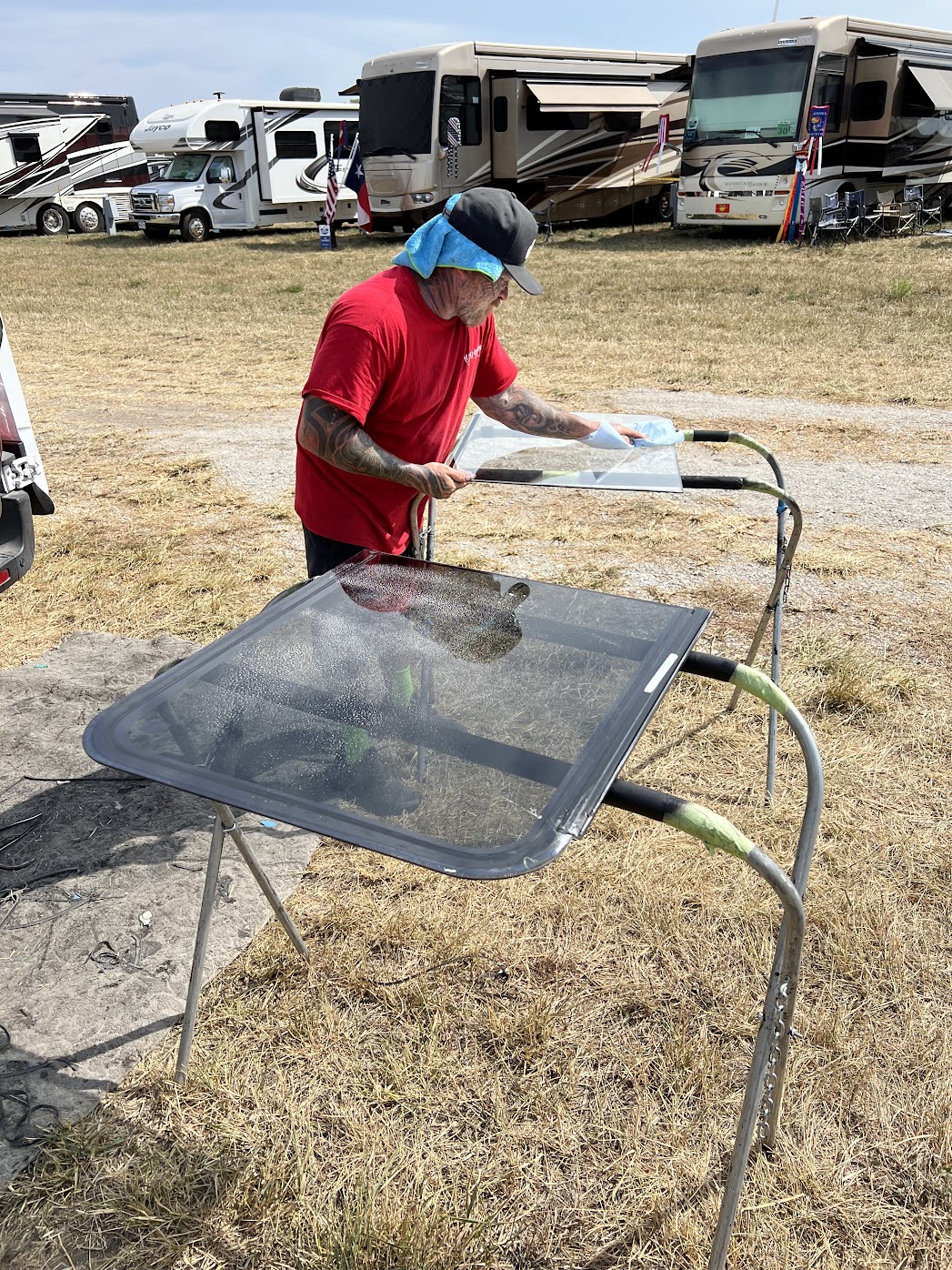 FMCA Lincoln foggy window repair on site
You'll see all sorts of service and installations in the camping area:
Awning replacement

Solar installations

Magne Shade installations

Wash & Wax and exterior detailing –

very popular service!

 

AIM partners: RettroBand® Tire Safety, THIA by Proteng Fire Suppression
This should probably be titled "RV Entertainments & Social Activities" but my personal bias as a book nerd & reader is showing. There are dozens of social activities on the RV show and rally schedule everyday: Ice cream socials, coffee hour (& doughnuts!), crafts, Lunch & Learn presentations, games, contests, trivia & bingo!
I was so excited to see FMCA Supersized Book Club on the schedule for both Tucson and Lincoln. Yes, it's a personal favorite, but I know I'm not the only one! FMCA selects a local author with a relevant best-selling book and invites them to come to the rally for an engaging discussion and book signing. (I would recommend ordering and reading the book ahead of the event!)
In Lincoln, award-winning Nebraska author Jonis Agee discussed her book The Bones of Paradise, "a multigenerational family saga set in the unforgiving Nebraska Sand Hills in the years following the massacre at Wounded Knee."
And in Tucson…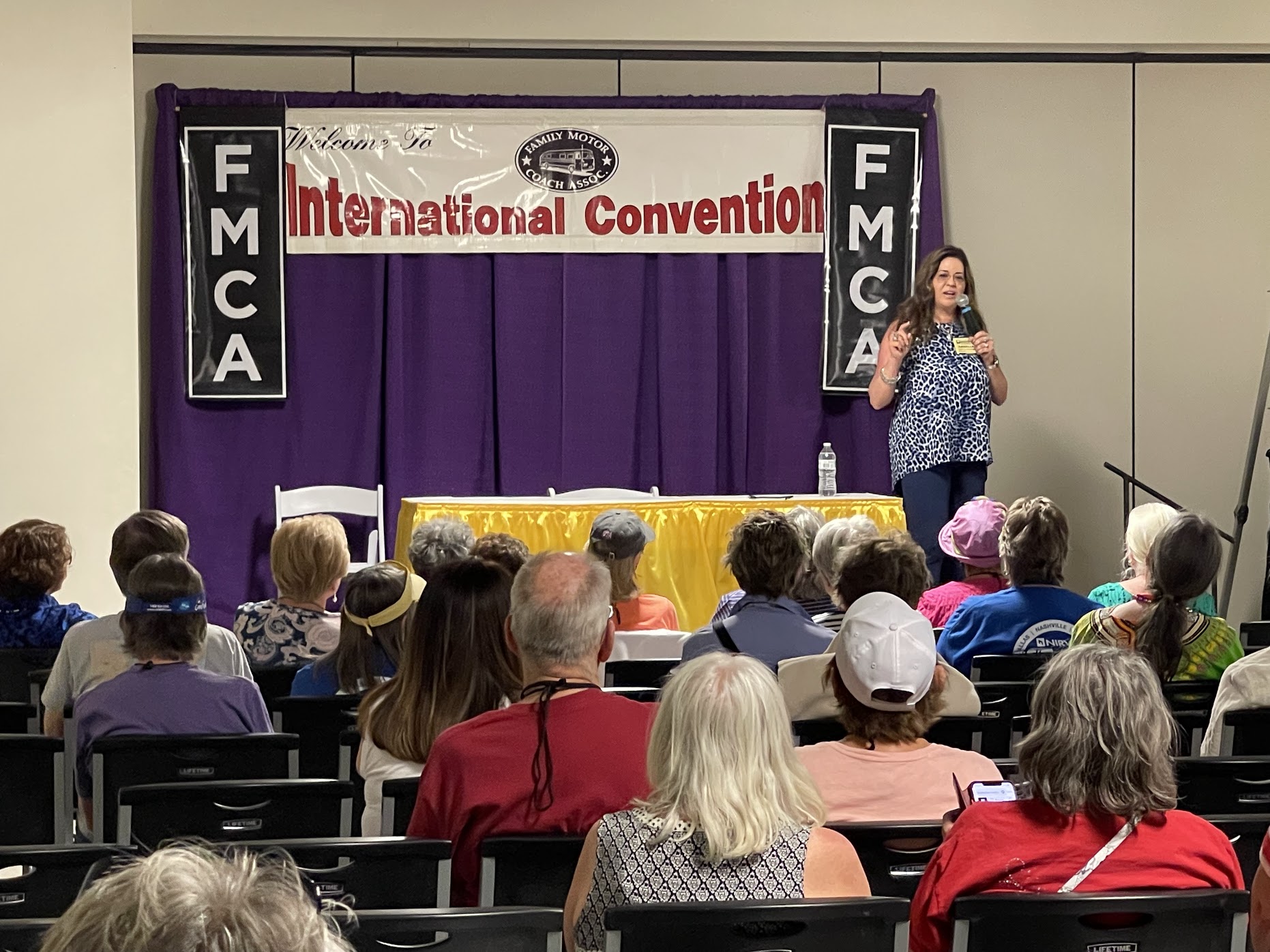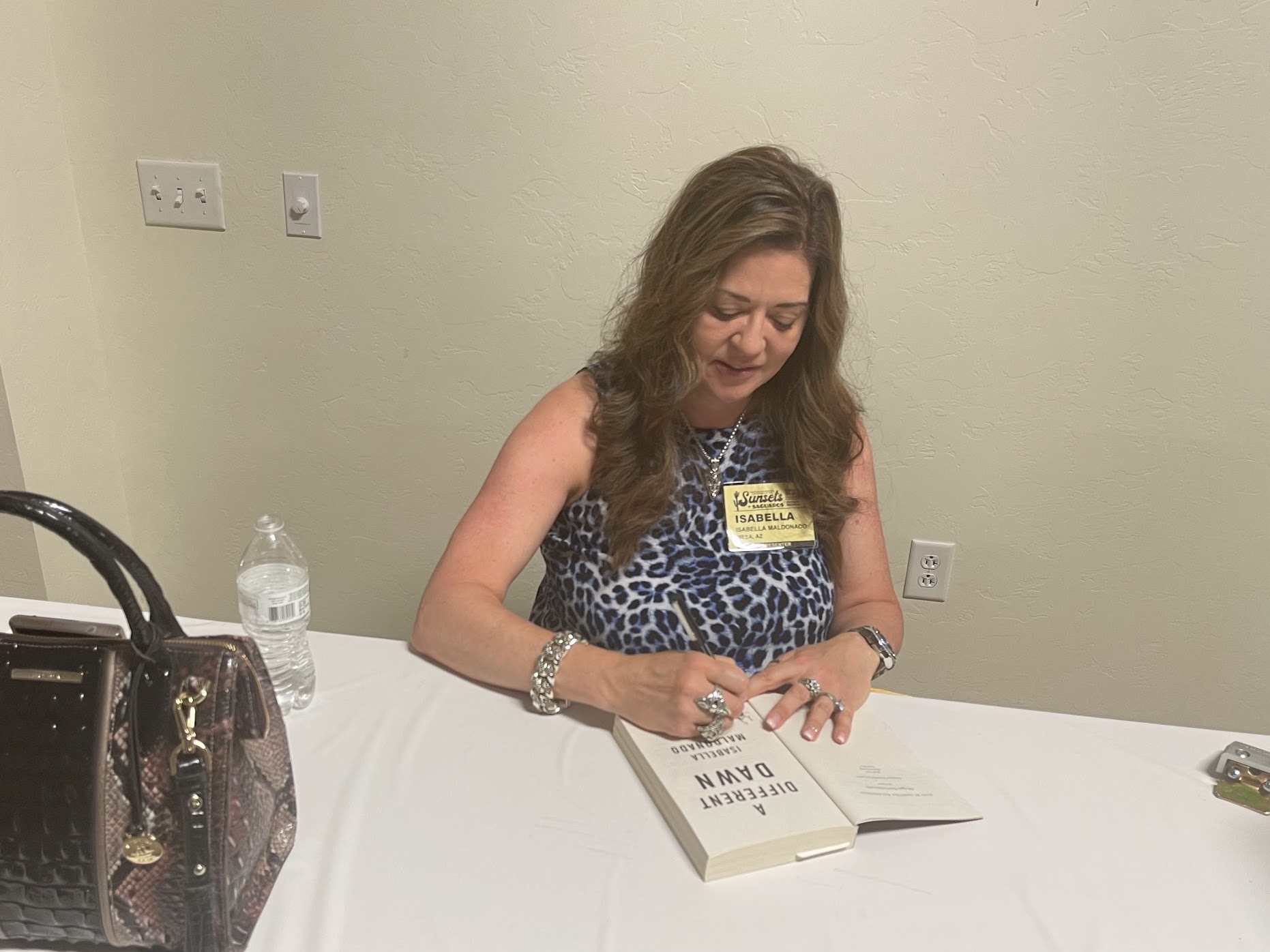 FMCA Tucson Supersized Book Club
Isabella Madonado signing her book!
FMCA Supersized Book Club!!! Oh my gosh, y'all — book group & a visiting author! The room was packed with engaged and enthusiastic readers! #rvlife #50states50books #readingcommunity #literacymatters
Isabella Maldonado: A Different Dawn (Crime Fiction). Set in Phoenix! I was in my Happy Place. Loved the book, loved the author.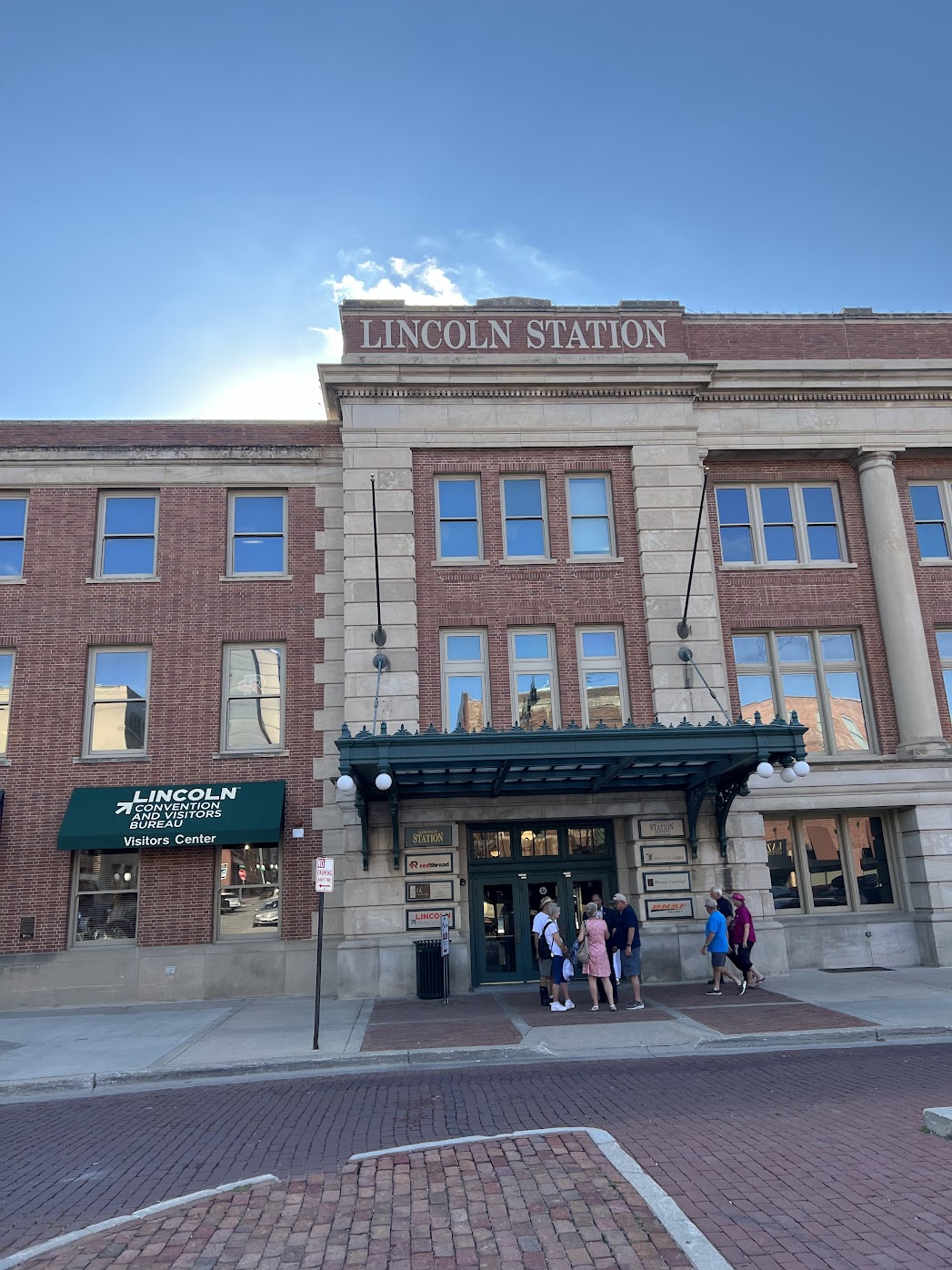 Lincoln Station – Lincoln, Nebraska
While the FL RV SuperShow is reliably held in Tampa, FL every year, the FMCA International Convention & RV Expo Rallies are held at different locations, year to year: Tucson, Arizona and Lincoln, Nebraska in 2022; Perry, Georgia and Gillette, Wyoming in 2023. This provides a wonderful opportunity to travel to and explore new destinations.
While Tucson, AZ has been on our travel route several times, it would have taken us a lot longer to get to Nebraska. We might never have had a reason to visit Lincoln, NE without FMCA! It is very cool that the local communities, cities and states are actively involved and promoted at RV shows and rallies. 
In Tampa and the FMCA locations, the local tourism office usually has a booth with visitor's information, guides and great suggestions for what to see and do in the area. Throughout the week, there are activities and special tours available to learn about and explore the local area: arts, history, and culture.
At FMCA Lincoln, sponsor Blue Ox hosted the FMCA Welcome to Lincoln Night Bash at Lincoln Station in the historic Haymarket District downtown. It was an amazing evening and a fantastic opportunity to explore Lincoln!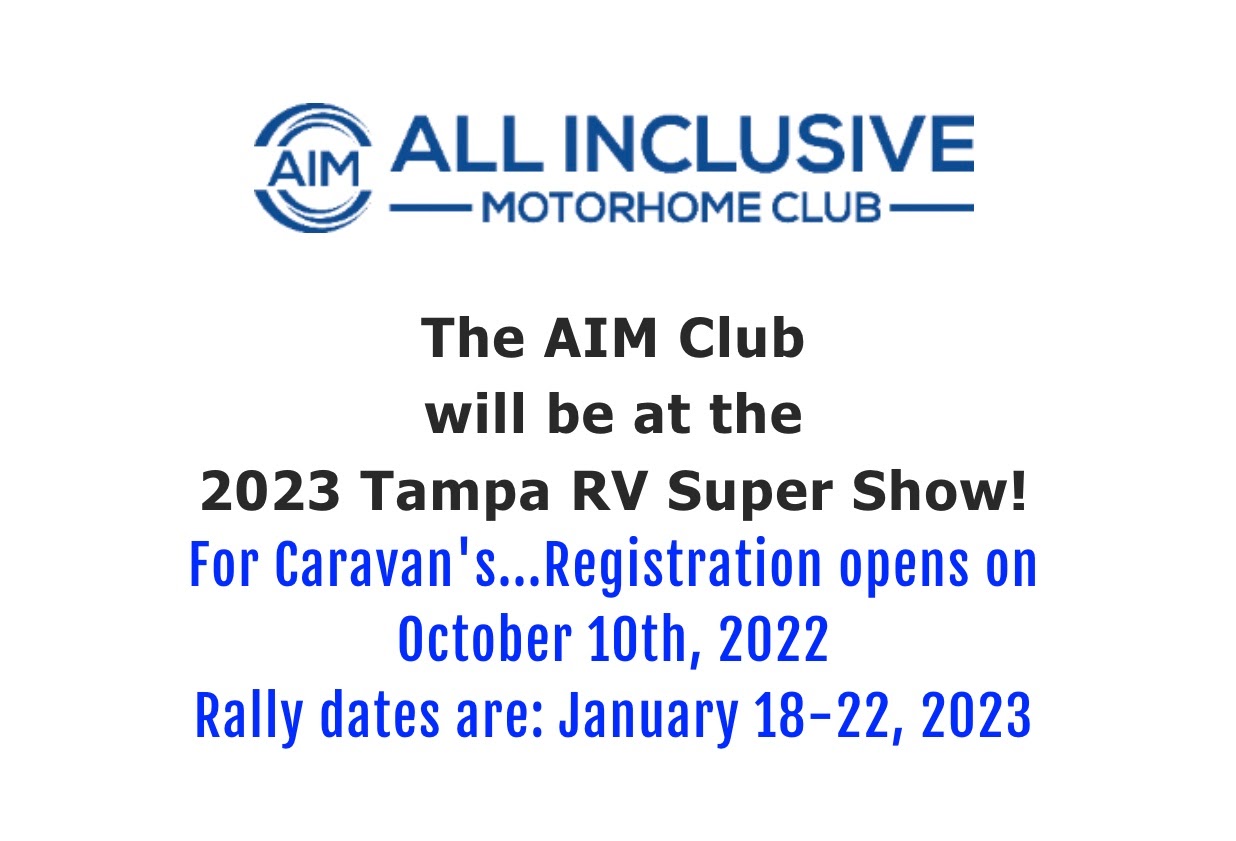 AIM Club invitation to Tampa!
9. NIRVC / AIM Outside Events
This is, in my opinion, the best reason of all to attend one of The Big Three events listed above. If you are an AIM Club Member – and you should be! – you can sign up to caravan and camp with AIM at these events:
You'll receive an email in advance of the event with information and instructions on how to caravan with AIM. Basically, when you register, you'll indicate "AIM Club" as the chapter or group you want to camp with.

Camping with AIM at these events is FREE – there is no additional cost, beyond your event registration fee with 30amp camping.

There is an AIM "Wagon Master" for each event who coordinates the caravan and keeps everyone informed with check-in date (caravan groups usually enter a day early to park), entrance gate & directions, and the time to arrive for AIM group parking.

You will receive more information between registration and the date of the event, by email from AIM Club, with updates on the AIM Club Facebook Group.
AIM Members: JOIN the AIM Club Facebook Group to keep up with all the latest news and past, present & future events!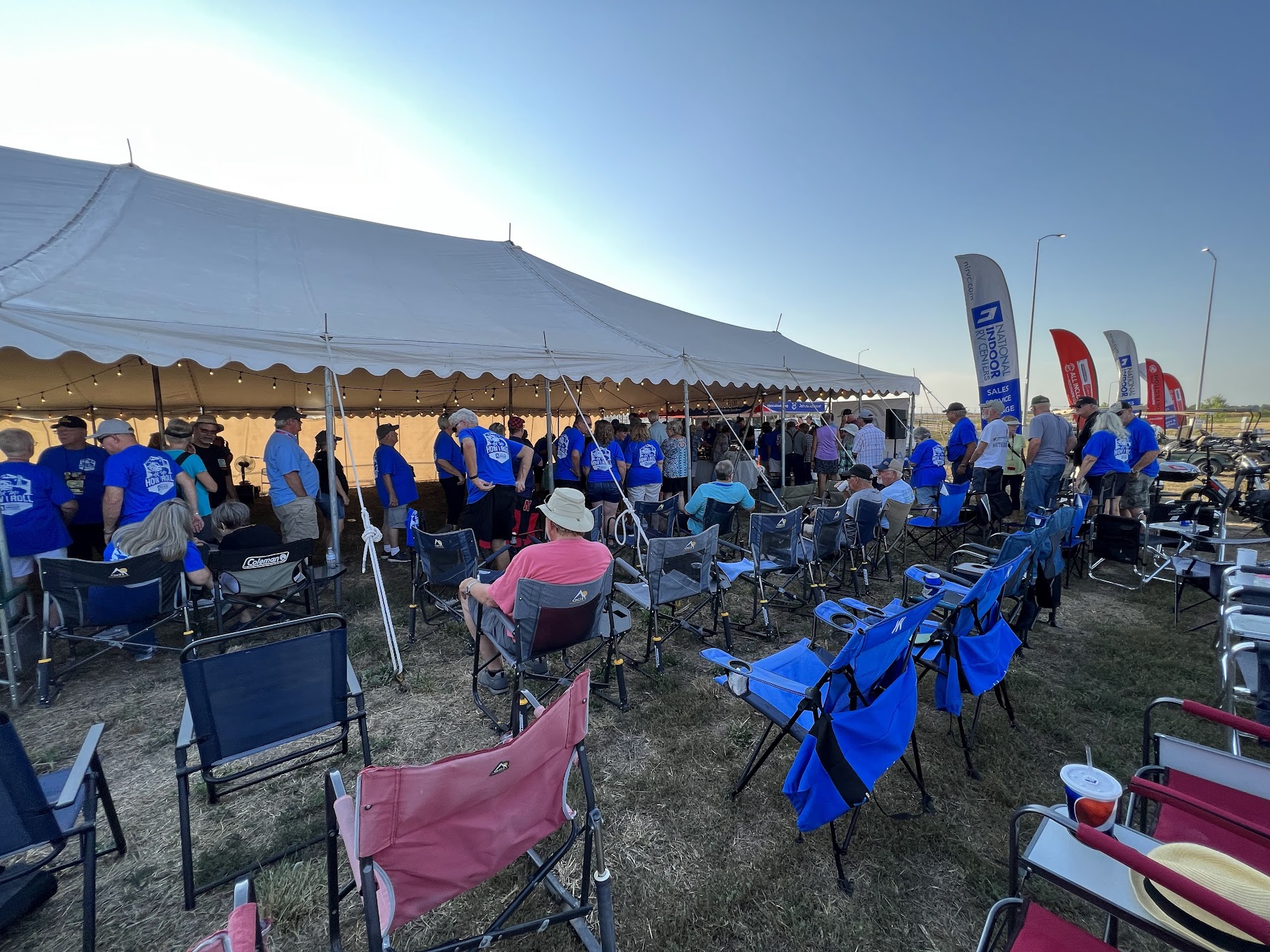 The Big White AIM Tent at FMCA Lincoln
Why camp with AIM?
There is always something happening in the AIM Neighborhood at the Florida RV SuperShow and FMCA International Conventions!
The Big White AIM Tent and caravan camping area is usually (in our experience) on the outskirts of the RV camping, which is fine. There are continuous golf carts, trams, and buses coming around to take you to the show and rally events and bring you back whenever you're ready. 
During the day, you determine your own schedule, however you want to experience the rally or spend time in the camping area. At The Big Three events, NIRVC is a sponsor and vendor, with a large display of big, beautiful, brand-new motor coaches and several vendor tents set up in the main area.
You are always welcome at the NIRVC area – check-out those brand-new motorcoaches! 👀
NIRVC Blue Shirts & THE DRAWING!!!
You are encouraged to stop by the AIM Club table at the NIRVC display – often! On your first visit, you'll pick up your NIRVC royal blue "How I Roll" t-shirt.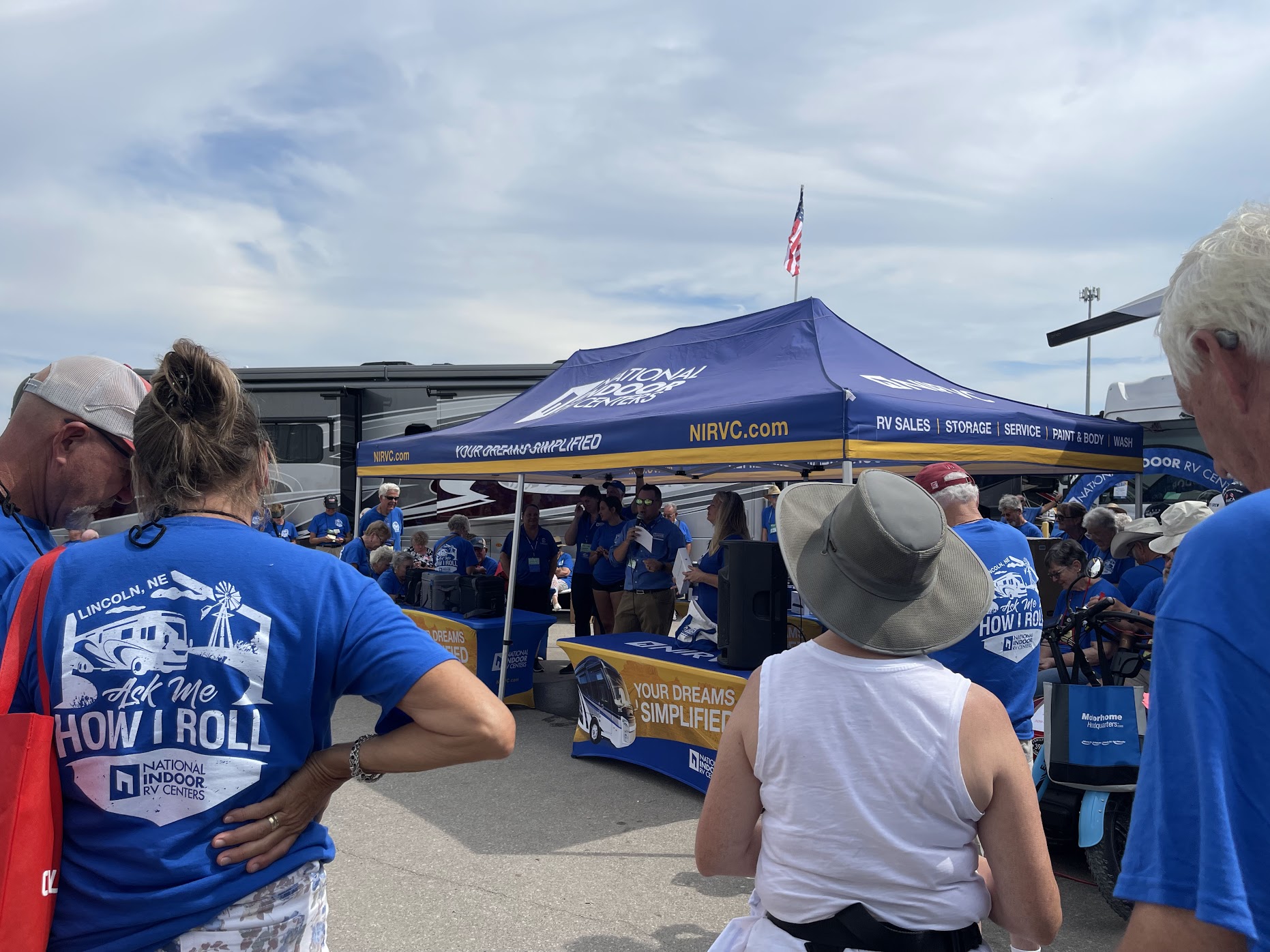 AIM / NIRVC Drawing at FMCA Lincoln
You'll want to wear that t-shirt all week (try not to sweat it up!). Because, every time you walk by the NIRVC / AIM table or visit the NIRVC motorcoaches during the event, you'll receive a ticket for the DRAWING on the last afternoon of the show – and you could win BIG! (No, not a brand-new RV, not that big.)
Great prizes in the past have included all kinds of fancy-brand camping equipment and accessories: coolers and travel cups, bbq sets and outdoor furniture, iPads & Instant Pots! Dozens of goodies. Dozens of WINNERS! (You have to be there to win AND you have to be wearing your NIRVC blue shirt!) At the very least, you WIN a free NIRVC t-shirt! 😉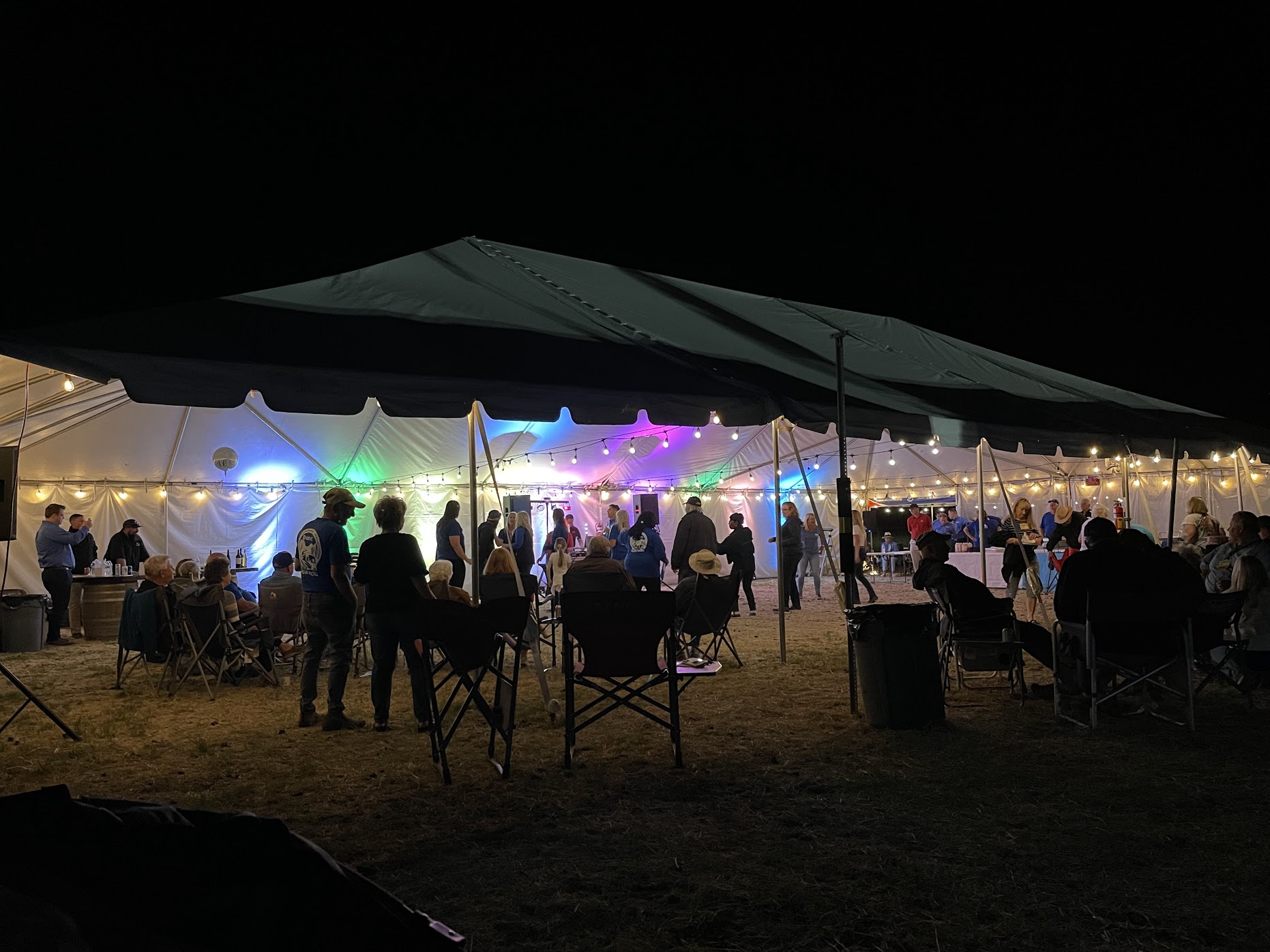 The AIM Tent After Dark: Dinner & Entertainment
AIM After Dark
After a long day at the event – shopping for a new RV, attending seminars, enjoying activities, and spending money on all the gadgets & gizmos you never knew you needed – you catch a tram back to the AIM Neighborhood and the fun continues!
You don't have to cook. You don't have to go out to a restaurant. You don't have to worry about bringing anything to a potluck. Every night of the show or rally, except for the last night (when everybody needs to be packing up and getting ready to go, including the AIM Club tent and equipment), AIM Club serves dinner at the big white tent. With beverages (water, soda, beer & wine) and dessert. And, usually, Randy-the-Rally-Man's famous hand-cut, fresh french fries!*
[*You'll know what I'm talking about if you read the AIM article: Inside AIM (All Inclusive Motorhome) Luxury RV Club & California Dreamin' 😉] 
All this is followed by evening entertainment: a live band, a DJ, a vocalist, or small musical group. And then there's dancing!!!
Welcome One & All!
The thing you might not expect, at AIM After Dark… It's not just the AIM Club Caravan neighborhood at the event. The AIM Club, NIRVC & other AIM Club sponsors extend the evening invitation to the entire RV show and rally community at The Big Three: 
Everyone attending the show or rally is invited, usually when they visit the NIRVC display, the AIM Club table for blue shirts and drawing tickets, or when someone asks someone else about the sporty royal blue "How We Roll" shirt that EVERYONE is wearing by the second or third day.
The proper response: 
"That's the AIM Club, sponsored by NIRVC. They serve dinner & beverages in the big white tent over on the outskirts of the camping area – for free! – followed by evening entertainment. Everyone is invited. It's a lot of fun! Just bring your own chairs and wear your dancing shoes…"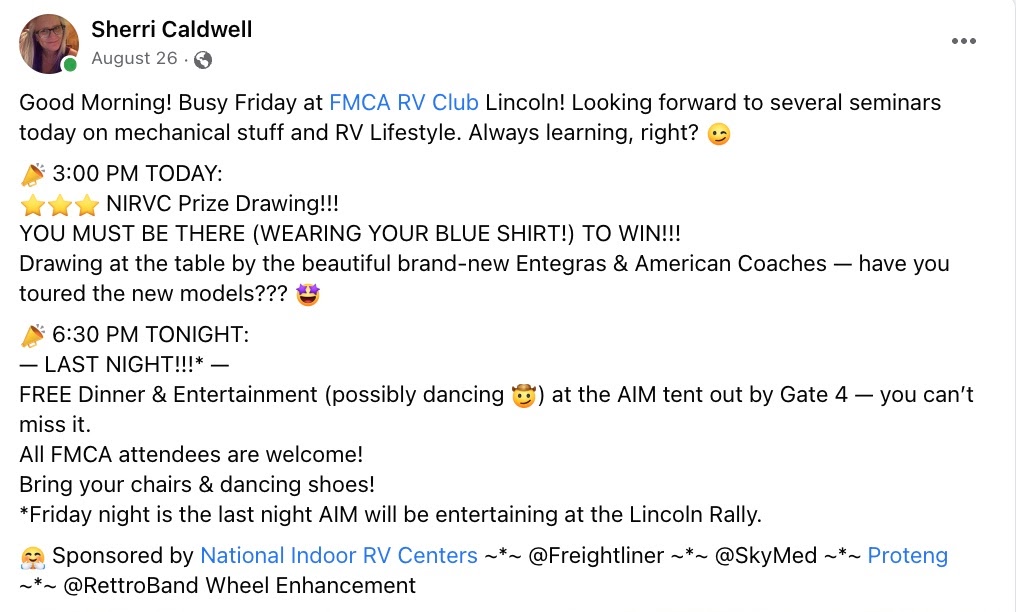 FMCA Lincoln AIM Announcements
Last, but not least: A few words about "roughing it" in the camping area:
The Tampa RV Show and FMCA Rallies are held at large, regional fairgrounds and outdoor event centers. The camping area is a huge, grassy field with makeshift power systems providing individual electrical hookups. Caravans usually park in the 30amp service area.
There are no individual water or sewer connections, but they do have fresh water and pump-out services you can arrange for a fee…
NEXT ARTICLE: "'Roughing It' At RV Shows & Rallies – You Can Do It!" 😉
For announcements and more information about The Big Three Outside AIM Events every year:
Be sure to

JOIN / RENEW your AIM Club Membership

!

JOIN

The AIM Club Facebook Group

to stay up-to-date!
Did you know The AIM Club schedules AIM Rallies around The Big Three? Pre- and/or Post-Rally with AIM!
Check the AIM Events Calendar online for all the fun!
Safe Travels & See You Soon!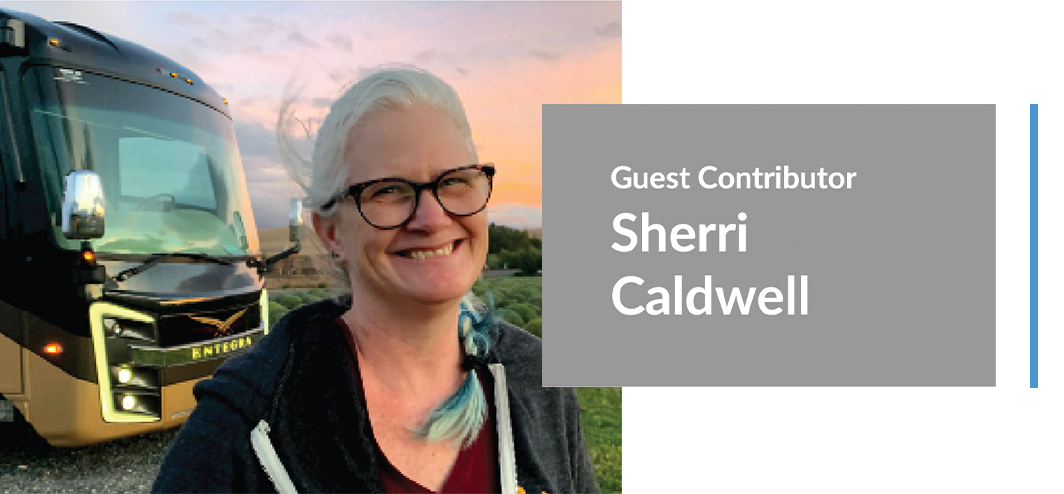 Sherri Caldwell is the founder of BooksAndTravelUSA.com – Full-time RV Travel Blog & Book Club/U.S. Literacy Project. With her husband, Russ, she is currently living, working, and traveling full-time in their 2016 Entegra Aspire: Charlie-The-Unicorn RV.