How Much Does Your RV Weigh?
In Part 1 of this three-part series, we talked about quickly and easily weighing your RV on the CAT Scales. There is, however, a limitation to consider, when you only know your overall weight, or even your weights per axle.
Remember, the primary concern for weighing your RV, and adjusting tire pressures accordingly, is to avoid overloading any of your individual tires. Unless you know the load/weight carried by each wheel position, you have no way to know the proper inflation of your tires. Improper inflation leads to improper wear, reduced life of the tire, and greater potential for rapid tire failure. Learn more.
RV Four Corner Weighing
So, after your preliminary weigh-in on the CAT Scales, this then becomes the Holy Grail or Level-Up Quest for the new RV owner: four corner weighing, also known as wheel position weighing.
The four corner weight is the distribution of weight on each of the four wheel positions of your RV.
We finally had our chance to weigh-in properly – all four corners, or wheel positions, of the RV – with RVSEF (RV Safety & Education Foundation) at the FMCA International Convention & RV Expo in Perry, Georgia.
RVSEF maintains a full schedule of attendance at RV rallies and manufacturer brand events all over the country. They teach tire and weight safety seminars and provide wheel position weighing at events.
When you register for an FMCA Rally, or any of the events RVSEF is attending, you'll typically receive early notice via email about signing up for wheel position weighing. You can schedule your weigh-in before or after the event, on your way in, or when you leave. Very convenient!
RV Goals: Four Corner Weigh
We had been on the road full time for two years before we had the opportunity to finally sign up for our four corner weighing. We were fairly confident we were on top of tire safety and RV weight:
We replaced all six tires on Charlie-The-Unicorn RV in our first year. 

We rolled onto the CAT Scales several times in our travels to verify overall weight, axle weight and tire pressures. 

We researched, purchased and installed our

TireMinder tire pressure monitoring system

.

My husband checked the tire pressures regularly, as part of his travel day checklist. 
We rearranged our travel schedule to do the four corner weigh on our way into the FMCA Rally. I scheduled the appointment just before our assigned parking time with the AIM Club.
The wheel position weigh station is a portable setup, with big rolling scale plates the RVSEF techs position under the tires, and a computer with a printer to generate the reports in real time. This all requires a flat roadway for accurate weighing, as well as plenty of room to maneuver the large RVs coming and going. 
RVSEF typically arranges the weigh-ins at a suitable location near the actual event. In Georgia, it was at a small airport near the Georgia National Fairgrounds & Agricenter.

RVSEF weigh station setup (courtesy of Trey Selman/RVSEF)
How Do I Get My RV Weighed?
Along with the appointment date, time and location specifics, you'll receive additional information and homework ahead of time. Be prepared!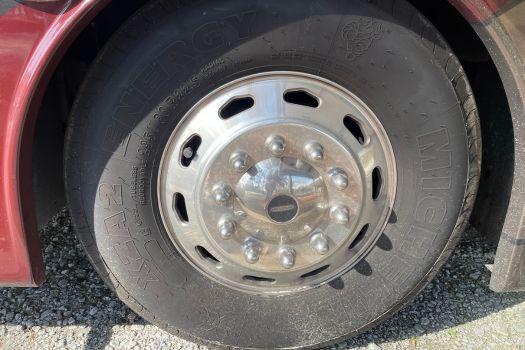 RV weight information needed from your RV tire sidewalls: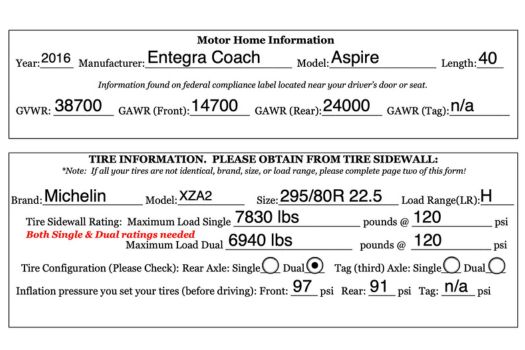 The homework is necessary information and helpful education for the RV owner. This was the first time I really looked at the Federal Compliance Labels in our rig and got to know our motorhome tires up close and personal.
In Charlie-The-Unicorn RV, my husband tends to do most of the driving. He handles the technical and mechanical aspects of our life on the road, while I navigate and manage the logistics of travel and household management. He also works full time and is on video conferences with partners and clients all over the world all day, every weekday. I have more flexibility with my work, so I help with the details, such as filling out the homework sheet for our Wheel Position Weighing.
I got organized, did the detective work, and learned all about the RV weights from the compliance labels and information on the tires. I looked up all the terms and definitions as I went.
Little did I realize how important load range would be. (More on that later…)
Four Corner Weigh: Preparation 
 When weighing day finally rolls around, there is even more prep to be done. You'll want to go into your RV weigh-in as heavy as you can be, to truly test your limits, even if you don't normally travel fully loaded.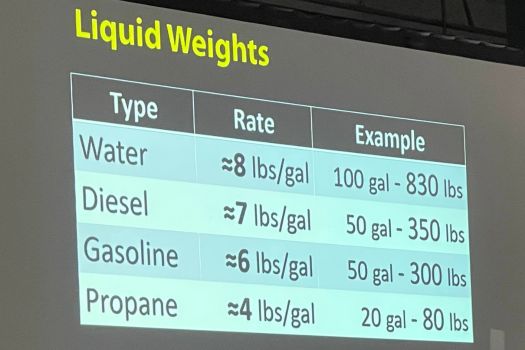 We drove our RV onto the scales with a full tank of fresh water (830 lbs!), plus full diesel and propane tanks. Our black and gray tanks were empty.
Keep in mind that the total weight of your RV includes people – and pets!
Four Corner Weight Results
After all the scheduling, homework and prep, the wheel position weighing was an easy process. We arrived at the airport and only had to wait less than five minutes for the RV ahead of us to finish. After paying, I climbed aboard and took my usual seat. Hubs rolled Charlie the Unicorn's tires up onto the four weight scales. The RVSEF team recorded the weights and brought the results over to discuss the GVWR, GAWR and GCWR.
GVWR (Gross Vehicle Weight Rating)

– the maximum weight limit of the vehicle and everything in it, including passengers, pets, gear, provisions, furniture, accessories, fluids (fuel, propane, water, etc.) and all of your household and personal goods.

GAWR (Gross Axle Weight Rating)

– the maximum weight limit on each axle. It is possible to be under the GVWR and still exceed an axle rating, depending on how your RV is loaded (i.e., the weight distribution on each axle).

GCWR (Gross Combination Weight Rating)

– the maximum combined weight limit of your motorhome and the attached tow vehicle, including all passengers, cargo and liquids in each vehicle.
Four Corner Weight Report

Basically, WE FAILED!
We were HEAVY on the Passenger Front (my side!) by 200 lbs, according to the Axle Rating: GAWR (Front) 14700 / 2 = 7200 lbs max per tire.
But also, and in my mind, far, far worse: 1,100 lbs MORE than Driver Front. What?! I've actually LOST all 15 lbs of my gained RV weight. I was devastated!
Overall, we were well within our GVWR and GAWR (front and rear) – as our CAT Scale weights had shown – but the distribution of the weight between the four wheel positions was out of whack, which affects the individual wheel position tire pressure requirements for safety.
How Can Your RV Be Overweight and/or Unbalanced?
RVSEF's suggestions for the weight variance in our RV, included several possible factors:
Storage in the bin below the passenger seat? My storage included an Instant Pot, camp decor (lights/tablecover, etc.) and a rope hammock: 1,100 lbs?! I think not. However, the house batteries are also up in the front. (That must be it? No.)

Generator in front offset? (No, the generator is centered in front.)

Diagonal weight variance on corners due to air suspension system?

Rest assured, it wasn't me! And it didn't indicate a broken frame (another unreasonable fear I had).

Our motorhome was safe to drive, but we needed to get it checked out as soon as possible.
Their recommendation was to run the tires at the highest PSI allowance (pounds per square inch), front and rear: 120 PSI. We didn't immediately do that, because we were going directly into the FMCA Rally, which was just a few minutes away, and parking for the rest of the week. 
It's actually a really good thing we did not increase the tire pressures at that time…
In retrospect, we're happy we scheduled the four corner weigh-in on our way in, before we attended the FMCA Rally, so we had a chance to do more research and ask questions.
RV Unbalanced: Ride Height?
None of this made any sense to me. I had to go deeper. Research. Ask questions.
The first person I talked with was Ted Cook from Entegra Coach, AKA Entegra Ted. Ted's business card says Regional Sales Manager, but he is much more than that, having been with Entegra Coach before they were even building motorhomes.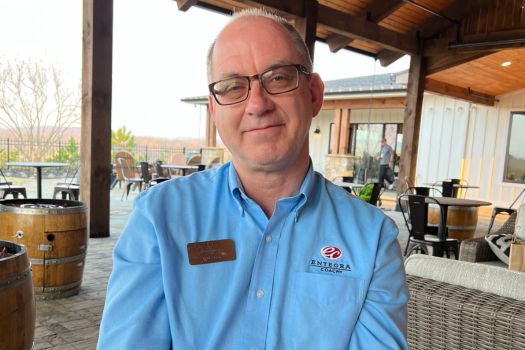 Entegra Regional Sales Manager Ted Cook (Entegra Ted)
Jayco/Entegra Coach purchased the assets of RV manufacturer Travel Supreme in 2008. Ted came to Entegra through that acquisition. He was VP of Operations at Travel Supreme and had worked for the company since 1990.
I discovered this mention of Ted in the September 2006 issue of FMCA's Family RVing Magazine:
No Shortcuts Allowed at Travel Supreme
…Mr. Cook, a 16-year company veteran, has played a significant role in the design and mechanics of Travel Supreme motorhomes. For instance, he was determined to build a slideout mechanism that would be flush with the floor, all the while keeping the baggage doors full-size. Thanks to some clever engineering, this was accomplished.
Entegra Ted knows pretty much everything there is to know about Entegra Coaches – and high-end motorhomes in general. As Entegra Coach's Regional Sales Manager, he works closely with NIRVC to represent Entegra and to support dealership sales and service. He's also a great guy, fellow AIM Club Member, and part of the NIRVC family, so we all have the pleasure of seeing him at RV events, shows and rallies.
Ted looked over our Wheel Position Weight Report and suggested we take a look at the ride height, which is the setting for the air suspension on your chassis. Ride height is very, very important.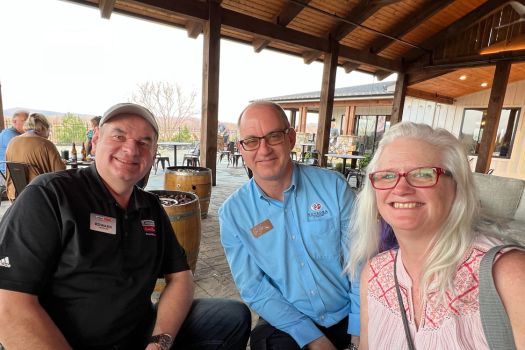 L to R: Edward from Freightliner, Entegra Ted, Sherri Caldwell
I learned a lot about our air suspension system and ride height from Entegra Ted and our friends at Freightliner, an AIM Club founding sponsor. There was indeed a small ride height adjustment made by the end of our unbalanced adventure.
Ride height can affect the diagonal weight variance on opposite corners due to air suspension. That is something that should be checked by your chassis manufacturer or a qualified service technician, especially if you have a problem with your four corner weights.
But there was something else going on here…
RV Weight & Tire Safety Seminar
Two days later, during the FMCA Rally, I attended the RVSEF Seminar: RV Weight & Tire Safety presented by Trey Selman, Executive Director of RVSEF. It was a fascinating and comprehensive presentation, and I encourage any RV owner to attend if you have the chance.
After the seminar, I had a chance to personally ask Trey some questions about our weight problems. He reviewed our Wheel Position Weight Report and the recommendations, as well as the tire info I had recorded on the Homework Sheet.
And there it was, right on the Homework Sheet: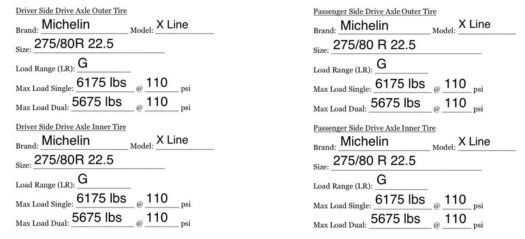 G load range and the WRONG tires!
Ultimately, we discovered that we had the wrong load range rear tires on our motorhome… for the last year and a half.
With the rear tires we had (Load range = G), the MAX pressure was 110 PSI, and the MAX weight was 5,675 lbs per tire, which was insufficient for our motorhome based on our GAWR and the weight distribution on the rear axle. Our tires all should have been Load range = H. (Wrong tires?! How did this happen?!)
But first, let's talk about the end of the story…
RV Weight: Four Corner Weighing For Safety
When the pieces of the puzzle finally fell into place, we were able to make the arrangements and get our particular RV weight problems corrected: 
Replaced all four rear tires with proper load range tires

Adjusted ride height

Redistributed weight in the basement storage bins

Retested our four corner weights
Final results: WE PASSED!
The cost of Wheel Position Weighing with RVSEF at the FMCA Rally was $70.
It was well worth the money for the convenience of the timing and location, the overall education in RV weight and safety, the one-on-one personal assistance when we had weight problems, and our resulting confidence in the weight, distribution and safety of our motorhome on the road.
Something we learned along the way: The cost of four corner weighing with NIRVC at any of their six locations across the country = FREE. (We were RV owners for nearly three years before we learned this!) It's important for RV owners to know their Four Corner Weights for weight distribution, proper tire pressures, and confidence in their equipment and safety.
We were able to retest our four corner weights after all the adjustments and corrections at NIRVC Las Vegas.
"We do currently have the capability of four corner weighs at all locations. This is a FREE service we offer," explains Eddie Braley, General Manager of NIRVC Dallas. "We do request that you call ahead to schedule, as there is some setup time required. The service is offered to all RVers regardless where they bought their RV."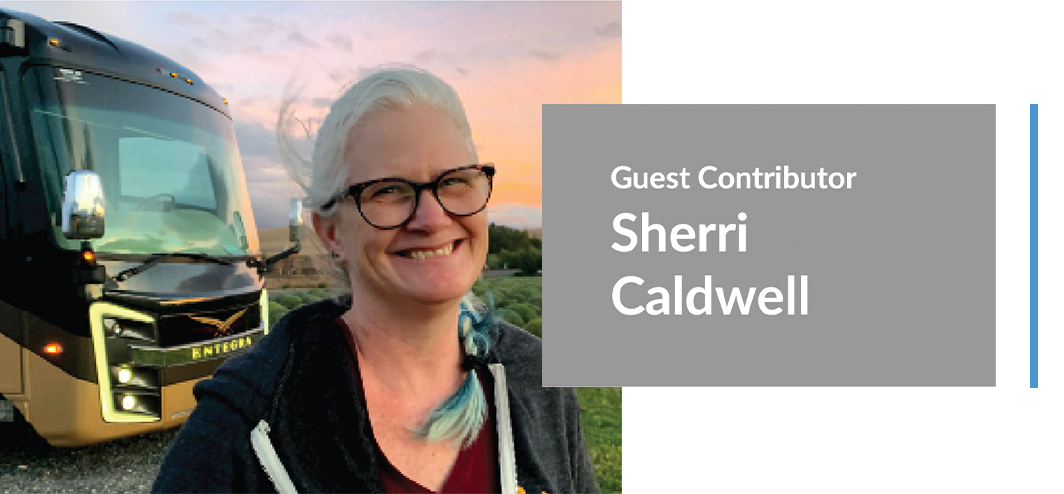 Sherri Caldwell is the founder of BooksAndTravelUSA.com, a full-time RV travel blog and book club/U.S. literacy project. Sherri and her husband Russ are currently living, working and traveling full-time in their 2016 Entegra Aspire 40P, Charlie-The-Unicorn RV.